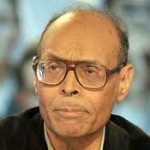 After Kenyan President Uhuru Kenyatta who lowered of 20 % his salary, Moncef Marzouk, the president of Tunisia announced last Friday his intention to lower his salary of two thirds.
"We are facing a financial and economic crisis. The State has to be a model (…) and that is why I decided to lower the president Republic legal salary and to reduce it."
Moncef Marzouki is head of State since end 2011.
The spokesman of the presidency, Adnane Mansar, indicated in the past that the president perceived a gross monthly salary of 30 000 dinars (more than 13 500 euros), amounting according to him to a 20 000 dinars as net (more than 9 000 euros).
The best paid African head of State is the South African Jacob Zuma, with a monthly 19 765-euro remuneration. The "smallest" official salary is the one of the Cameroonian Paul Biya, paid 200 euros a month for his term as President.
Barack Obama has 24 264 euros as monthly salary, 13 764 euros for François Hollande and 7 460 euros for Vladimir Putin.
Find all salaries published by Jeune Afrique – Here –
Original text by: Nicolas Coutain
On the same topic: