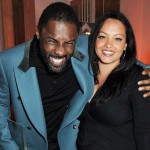 Too happy, he did not waist time to share the great news on his Twitter page:  the Liberian Idris Elba announced he is father for the second time.
His beloved wife Naiyana Garth gave birth to a little son named Winston.
« My son Winston Elba was born yesterday. Really wonderful»
This is the first child of the couple, so is of Naiyana.
Idris Elba is already father of a girl Isan, 11 years old, from his ex-wife, Liberian actress Dormowa Sherma.
All our congratulations to the happy parents!
Original text by: Nicolas Coutain
On the same topic: