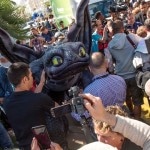 The scene nearly made this great audience run away, ladies in particular because certain fans even exclaimed: "dragons invading Cannes!"
On the occasion of promoting the 2nd part of the cartoon movie "Dragons" during the festival of Cannes which is taking place from 14th to 25th May of this year, the Beninese actor Djimon Hounsou and the revealed actress in "Uggly Betty", America Ferrera, made a tour together with the dragon of the movie.
A few moments later, the panic gave way to admiration and photography sessions.
Both actors went through autograph sessions and took numerous pictures with the fans of the movie who wore all Vikings' headdresses for the occasion.
Djimon Hounsou is mostly known for his roles in "Gladiator", "Amistad" and "Blood Diamond" beside Leonardo DiCaprio.
In "Dragons 2" He lends his voice to the character of Drago Bludvist while America Ferrera lends hers to Astrid.
Original text by:
Blaise AKAME
On the same topic: