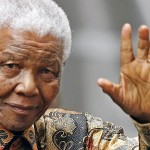 Another new movie is in progress on Nelson Mandela's life after his death on 5th December 2013 at 95 years old.
Last weekend, producers went to the city of Lobatse, a place situated at 70 km far from the capital town of Botswana Gaborone for the shooting of a documentary film about the life of the former South African president.
The shooting of the full-length film will start in Botswana to continue in Ethiopia, in Tanzania, in South Africa, in the United Kingdom and in Algeria.
This is a way of recalling the life of Mandela, mainly his post-prison life as fighting for freedom.
The film will be based on the period of his life when he was getting ready to be freedom fighter.
According to the Director of the national Museum, Gaobakwe Phorano, the city Lobatse of Botswana is the ideal place to make it.
This latter asserted that "by authentically including Botswana in the history is an honor towards its values and towards its culture".
Original text by: Blaise AKAME
On the same topic: