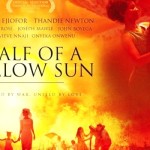 With its success in 2013, the Nollywood Week festival comes back this year with more new things. From 5th to 8th June in Paris, African cinema and particularly Nigerian movies commonly called "Ibo movies" will be in the spotlight.
For four days, the public will have the privilege to discover the best of Nigerian productions on a selection of 8 movies.
It is already announced that the movie "Half of a Yellow Sun" will be projected in preview during the Festival.
Nollywood Week is at present a reference regarding quality access of Nollywood movies in France.
Original text by: Blaise AKAME
On the same topic: