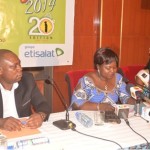 The race for the succession to Miss Edwige Eméfa Ségbé, Miss Togo 2014 is launched. The steering committee of Miss Togo, the event that values the beauty of Togolese woman, indicated that the registration continues till 27th June 2014.
For the 20th edition of the event, the steering committee chaired by Baka Gaspard promised innovations. The young Togolese ladies interested in the present competition can register at the National Committee Miss – Togo, at regional offices of culture, at the inspections of youth and sports and at the offices of prefectures.
In order to pretend to become the ambassadress of Togolese beauty, you should be childless single and previously not married, be aged between 18 and 25 years old, have a minimal height of 1,70m, have a good morality and an excellent reputation.
The stage of prefectorial short-listings will begin on 7th to come to an end on 16th July 2014. The big final will take place on Saturday, 30th August 2014 at the Palais des Congrès of Lomé.
Original text by:
Roger ADZAFO
On the same topic: