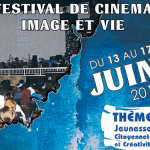 For 14 years and in June, the Film festival "Cinéma Image et Vie", has been promoting in the African cinema.
Organized by the Image et Vie Group, a cultural and film action organization, the 14th edition will take place from 13th to 17th June 2014 in Dakar.
It is going to welcome movies of any kinds (fiction, documentary, animation) from all the cinematography.
The theme chosen for this edition is: «Citizen Youth and creativity».
According to organizers, cinema will meet the other artistic disciplines.
Movie Projections will be organized in room, in cultural centers and outdoor in the popular areas. Workshops and professional meetings will be also organized.
The festival will be extended over three regions in the inside of the country through an itinerant cinema.
At the end of this big meeting, the best documentary movie, the best short film of fiction and the best interpretation will be rewarded.
Original text by: Blaise AKAME
On the same topic: