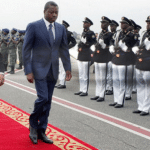 After Alassane Ouattara in 2013, it is the turn of the Togolese head of State, Faure Gnassingbé, to have the honor to sponsor about sixty African officers at the end of training last Thursday in Libreville (Gabon)
The ceremony took place at the School of the General staff in the presence of the Gabonese president, Ali Bongo Ondimba.
In their speech, both Heads of State alternately invited the trainees "to appropriate the culture of excellence" that is the motto of this school.
Created in 2002 with the support of the French authorities, the School of the General staff of Libreville participates for several years in the training of the military executives of the African countries and particularly those coming from countries of the sub-region.
Original text by: Blaise AKAME
On the same topic: