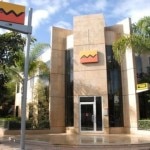 In its publication of Thursday, 19th June 2014 of the Middle East edition, the American magazine, Forbes classified Attijariwafa Bank as "the first Moroccan company in the Arab world".
The ranking that took into account the 500 largest companies of the Arab world, was realized by estimating a ratio including market values, incomes, profits as well as assets of the companies in the region.
Among the 500 companies appearing in the aforementioned ranking, 39 are Moroccan and five of them among which Attijariwafa Bank, appeared among the 100 most important. Attijariwafa bank then occupied the 23rd position of this ranking.
Let us underline by the way that Attijariwafa Bank appeared in the list of the 2 000 companies most active in the world according to Forbes, standing at the 1065th position.
Original text by:
Blaise AKAME
On the same topic: