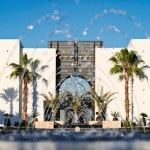 The "Villégiature Awards 2014" in the category of "the Best hotel of Africa" was just awarded to two Moroccan 5 star hotel complex. They are the Sofitel Thalassa Sea & Spa in Agadir and the Palais Namaskar in Marrakesh.
This prestigious award greatly prized by big international hotel complexes has been rewarding since 2003 the 5 best hotels in the geographic zones of Europe, Africa, Asia and the Middle East.
Opened just some couple of years ago, the Palais Namaskar and Sofitel Thalassa Sea & Spa are making good reputation with their international costumers.
Original text by:
Blaise AKAME
On the same topic: