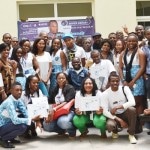 The first edition of the "Samba professionals" came to an end in Libreville (Gabon) this weekend after 5 days of training and exchanges with professionals of communication and business world. The participants got six modules presented by leading personalities of the continent as the former chairman of OM, Pape Diouf, journalist and the presenter, Amobé Mevegue or the journalist Joelle Ndong from TV5 World.
All the participants got satisfaction for the first edition of the "Samba professionals". "All impressions are positive. In five days, we learnt a heap of things as if we spent about thirty days with these persons. I can say today that I turned a corner", declared on Gabonreveiw.com, Freddhy Koula, a participant in the meeting.
As Africa Top Success reported it earlier, the meeting of training and exchange is introduced by Josiane Maténé, founder of 3MJ Consulting and Steeve Nguema of Omoss Production.
The trainers for their parts are happy to have participated in the strengthening of capacities of these young African people. For Amobé Mevegue, founder of the Ubiznews television channel, the African youth is overflowing with good initiatives.
"There are many young people who carry in the heart, many projects but who are missing convenient environment to achieve their professional ambition", he regretted.
"I personally chose to follow some of them who wish of becoming professionals. I want to stretch out hand to the young people who have passion", declared Steeve Nguema who conducted the "Audiovisual workshop: Training of cameraman, film editor, polyvalent technician".
Original text by:
Roger ADZAFO
On the same topic: