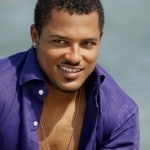 His elegance and charm make of him one of the African actors who marvelously succeed romance stages. Joseph Van Vicker was revealed by the Ghanaian cinema industry with the television series "Suncity" brought out in 2003. Since then, he has been playing main roles in Nollywood as well as in Ghana. The Ghanaian actor has eyes for the beautiful ladies only (cinema), he also dedicates himself to the emergence of a new generation of African actors.
Born on 1st August 1977 of a Ghanaian mother and a German father, Joseph Van Vicker lived a well-to-do childhood. He made his first steps to school at prestigious Mfantsipim School of Cape Coast. Fascinated by communication, he tried the adventure on television then on radio before finally finding his real vocation; cinema. After his first attempt successful with the students' series "Suncity", he got his real fame one year later with the movie "Divine Love".
The man who aims to be a citizen of the world, shot several movies in Ghana as well as in Nigeria. His fellow countrywoman Jackie Aygemang is often his partner in the romance stages. After more than ten years crowned by several awards, Joseph Van Vicker made a commitment in favor of the new generation actors. He created an eponym foundation that is promoting cinema in Ghana. He also has a communication agency and a hairdressing salon.
Joseph Van Vicker is married with Adjoa and is father of three children.
Filmography
Divine Love (2004)
Beyoncé, The President's Daughter (2006)
Keeping the Promise
Mummy's Daughter
The Return of Beyoncé (2007)
Romance
A Woman's Honor
I Hate Women
American Boy
Slave to Lust
Princess Tyra (2007)
Wedlock of the Gods (2007)
In the Eyes of My Husband
Corporate maid
My story
Innocent soul
Heavy storm
Odo Benni
Slave to Lust
Darkness of Sorrow (2006)
Royal Battle (2007)
Love is Wicked
Darkest Day (2009)
Broken Tears (2008) – with Nollywood actresses: Genevieve Nnaji, Kate Henshaw-Nuttal and Grace Amah
Friday Night (2008)
Crossing Paths
Thanks
Jealous Husband
Total Love
Meet My Cousin
One More Kiss (2009)
A Sense of Touch
Twilight sisters
Moonlight Girl
Royal War
Original text by:
Roger ADZAFO
On the same topic: