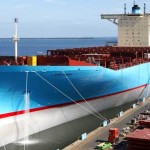 The Spanish exports towards Morocco got an increase of 6,9 % for 2.97 billion euros for the period January-June 2014.
For the only June, the Spanish sales in Morocco got a net increase of 21,2 % to reach 580,3 million euros.
These figures published on Monday by the Spanish Ministry of Economy and of competitiveness, showed that Morocco strengthened its position of the first market for the Spanish exports into Africa and Arab countries for this first half of the year 2014.
Figures also revealed that exports towards the African continent a falling back of 1,1 % between January and June to be at 8,33 billion euros.
The most important recessions were registered in the exports towards South Africa (16,6 %) and Algeria (7,8 %).
We should note that about 20 000 Spanish companies operating in various business sectors export their products towards Morocco.
Original text by: Blaise AKAME
On the same topic: