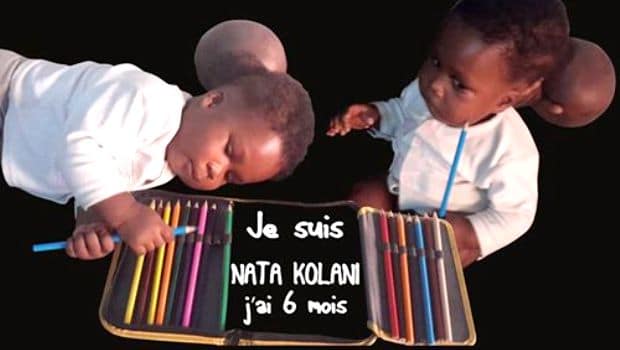 Dr. Kodom Michel, CEO and founder of the Aimes-Afrique NGO, has just called for solidarity in favor of the little Natalma Kolani (photo), a baby born last July in Dapaong (North of Togo) currently taken care by the NGO.
According to the doctor, Natalma Kolani is suffering from a serious deformation (meningo-encephalic) in the head, but curable provided that he is evacuated to Germany to be operated.
Just like the whole worl showed itself sympathy towards the French newspaper, Charlie Hebdo, Nat Kolani also deserves a particular attention.
Thus any goodwill people, companies, politicians, associations interested, etc. are welcome.
The donations can directly be sent to Aimes Afrique.
By cheque: 7090141407717001   Swift Code ECOCTGTG RIB 60
By bank transfer: ECOBANK AIMES-AFRIQUE (NAT KOLANI)
Telephone: +228 23 20 15 15
The list of the donators will be published every 15th of the month. The first list on 15th February
SOS….I AM NAT KOLANI 
Your help will save me life 
SOS…I AM NAT KOLANI, I'm 6 months old for 9 kg and 57 cm high. 
Your help will make me grow up and become CHARLIE (March towards me too…)
 
Original text by: Blaise AKAME
On the same topic: