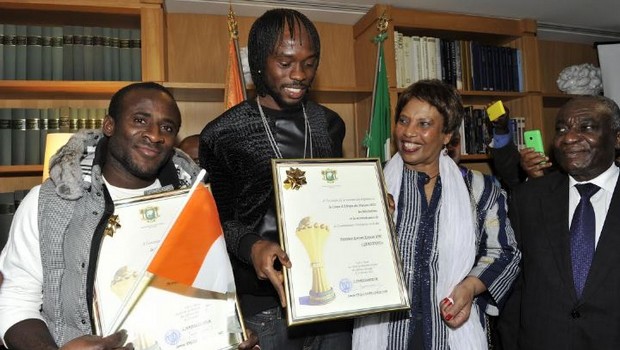 The players of the national team of Ivory Coast playing in Italy were honored on 27th February 2015 by the Ivory Coast ambassadress in Rome, Janine Tagliante-saracino.
This celebration was within the framework of consecration of Ivory Coast, winner of the last edition of the African Cup of Nations competed in Equatorial Guinea. Gervinoh and Doumbia Seydou were the stars of the evening.
For the ambassadress, the triumph of Ivory Coast participated in the process of reconciliation started by the authorities of the country. Indeed, the euphoria created by this victory allowed showing that the Ivorian from all ethnic groups and all political tendencies could live together.
The striker of the AS Roma dedicated the victory of the Elephants to the whole Ivory Coast. "I think that it is the victory of the whole Ivory Coast. We are proud to have given the enjoyment to the Ivorians. This victory is the result of a long-term, many years' work, and we seize the opportunity to pay tribute to all the elders of the national team. I welcome my brother, seydou Doumbia to Roma. He is a very good player, a player of quality and I am pleased to have him with me", he declared.
Original text by: Roger ADZAFO
On the same topic: