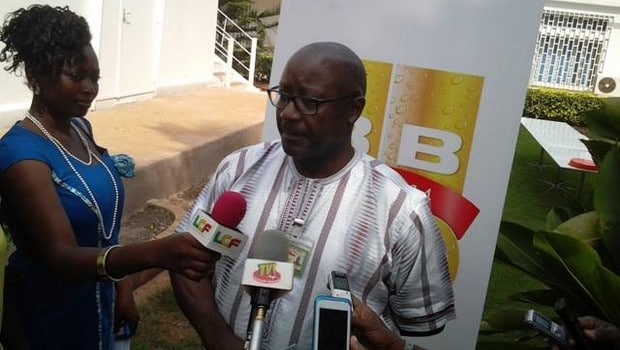 Outside its 50 years of existence, the Brasserie BB du Togo (Brewery Company) continues its series of actions in favor of the Togolese population.
Indeed last Thursday, the BB donated pharmaceutical and surgical materials to the « Santé & Education Intégrales – Afrique » association. According to the human resources manager of the BB, this action answers at the request of SEI-Afrique that starts the screenings and the sensitizations on Friday.
« This ceremony consisted of the delivery of pharmaceutical and surgical material for the Santé & Education Intégrales-Afrique association that requested us to support it in certain projects that we found convenient to accept in the way that it seems to us giving solutions to some needs at the level of the disadvantaged populations to which, the Brasserie BB wishes to bring its support« , declared Bathako Dogo.
This equipment estimated at 2 million FCFA includes surgical material namely surgical gloves, compresses, plasters and some medicine as paracetamol, abendazole to disparasitize children and alcohol.
Having thanked the donors, Doctor Ahuankpo Kodjo, at the same time chairman of the association, evoked the activities that will be implemented on the field: « the « Save the population » project sponsored by Arthème Awumey-Zunu [Prime Minister of Togo] is within the framework of the fight against cardiovascular diseases, mainly diabetes and high blood pressure. This project will also take into account the raising sensitization on the evil of moment, the Ebola virus hemorrhagic fever. We noticed that people living in the far distant hamlets have not enough information on the Ebola disease and the cardiovascular diseases.
So, we find it convenient to go towards this population and bring them the information, how to behave in order to avoid this disease, reason why we requested the Brasserie that agreed to support us in this action. »
The action will start on Friday in Danyi and the organizers expect of detecting at least 500 people. Then, the SEI-Afrique will head for Aneho and after, it will be the turn of Tabligbo in Yoto.
Last October, the Brasserie donated teaching equipment and school benches to certain schools of Lomé and inside the country. By a week, the BB plans once again to show its goodwill towards orphans through an action called the loving gesture. It will consist in offering gifts to a number of orphanages of Lomé and hospitals.
Original text by: Roger ADZAFO