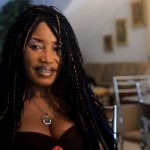 For the youngest, Delta is the kind wife of Bohiri in the TV series « Ma famille » that has been really successful since its first broadcasting in 2002. Delta, of her true name Akissi Delta, is not an actress only. She is also a director and a producer. Before her periods of glory marked by her movie « Ma famille« , Delta had been for a long time unknown.
For a young girl who has never been to school, only her will could allow her to achieve her dreams. Born in 1960 in Dimbokro (central Ivory Coast), the Ivory Coast actress Delta Akissi was very early closer to the show domain.
She has never considered her illiteracy as a handicap to her success. She even set it as a challenge. « My aunt taught me French speaking and especially politeness. As I did not go to school, people deliberately try to persuade me that I do not understand anything at all. But it is not the case. I feel thus misunderstood and it is not pleasant especially that I am capable of things that people holding all their diplomas would not be able to do », she admitted.
Dancer at first (in 1976), she posed for several magazines before finding her way to cinema. She played in several movies among which « Afrique, mon Afrique » in 1994, « Rue Princesse » in 1993 or « Joli cœur » in1992. She owed her success to her passage on the Ivory Coast national television where she learnt the secret of the profession. Delta also took advantage of this opportunity to write the scenarios of her first movie « les secrets d'Akissi » which tells her life. The actors of her second movie « Ma famille » were also spotted on television.
Difficulties of shooting
The TV series « Ma famille« , contrary to what several televiewers could imagine, did not benefit from any financial support. According to Delta, producer of the movie, the first episodes of the series were shot thanks to a loan of 1 million FCFA granted by a lady from Burkina Faso. The first sales of the movie helped to pay off the debts and to finance the following episodes.
Delta denounces the disengagement of her country in support to artists. « Artists are not considered as in Burkina Faso. Over there, it represents their « coffee and cocoa » – their treasure. Moreover with the problems of culture in Ivory Coast, we should focus on other thing. We do not know the role Ministries of Culture has playing and this for a long time », she rebelled.
To be continued very soon…
After the success met by the first part of the series « Ma Famille », Delta Akissi is planning to begin soon the shooting of the continuation of the problems left unresolved. For this, it is out of question to change the team. The actors known and appreciated by televiewers in the first part will be on stage. Delta recognized that the press played a bad role in the crisis that shook her team but peace finally came back in « the family ». As innovation in this new production, the relocation of the places of shooting; Delta Akissi is so planning this to thank in her way, these numerous TV channels of African that broadcast over and over again her movie.
[youtube]http://www.youtube.com/watch?v=flIr5NEyPuo[/youtube]
Original text by:
Roger ADZAFO
Articles similaires