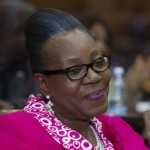 A woman at the head of the Central African Republic! Catherine Samba-Panza has become the new interim president in a very tense context.
Catherine Samba-Panza was the mayor of Bangui, the capital town of the Central African Republic. She was elected at the second round by the National Transitional Council. She obtained 75 votes against 53 for Désiré Kolingba, son of a former president.
The task will not be easy for her: she has to bring back peace in a country divided by conflicts many months ago.
Catherine Samba-Panza studied law in France and before becoming a politician, she worked in insurances domain.
She belongs neither to the former Seleka nor to any other political party. She is said to be competent and incorruptible. She declared to the French daily paper, "La Croix" that she grew up under the influence of her uncle who was a diplomat.
"Show your happiness to my appointment by giving a strong signal in laying down your arms. Lay down your arms and stop making suffer populations." This was her first message.
Catherine Samba-Panza was born on June 26th, 1956 in Ndjamena; her father is a Cameroonian and her mother is a Central African. She grew up in Bangui where her maternal uncle that was a diplomat, was her tutor before she left for law studies in France.
She is a Bachelor degree holder in information and communication sciences, as well as a diploma of specialized higher education in insurances obtained in the University of Panthéon-Assas
She was married with Cyriaque Samba-Panza, a Central African politician, who was appointed minister several times mainly under presidents André Kolingba and François Bozizé. They have three children.
She came back in Bangui and joined the branch of the affiliated group Allianz in Central African Republic.
She militated within the association of women jurists of the Central African Republic, association that main target is to fight against genital mutilations and other forms of violence women undergo in the country. She was also a trainer in human rights within the program for Africa by Amnesty International.
In 2003, just before the coup d'Etat by François Bozizé, Catherine Samba-Panza co-presided the National Dialogue and was elected chairman of the commission.
In 2013, she was appointed mayor of Bangui by the new government. The mayor of Bangui had no link with any main political party.
The new president of transition has the heavy task to bring back peace in a country destroyed by inter-religious violence.
[youtube]http://www.youtube.com/watch?v=UFx_43KHfUQ[/youtube] [youtube]http://www.youtube.com/watch?v=8-hB_nWj0y0[/youtube] [youtube]http://www.youtube.com/watch?v=vjgTTg3bFh8[/youtube]
Articles similaires