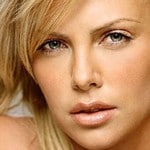 She is very proud of being African! Charlize Theron is one of the most fashionable actresses in Hollywood but she has never forgotten where she came from: South Africa. And she has even big projects for her country and the continent.
It was for this reason that she got involved very actively in her foundation Africa Outreach Project? « Africa Outreach Project's idea, it is because you can provoke heavy changes thanks to knowledge. You can convince people, persuade them that they deserve better lives. AIDS is destroying African continent and we have to fight him. (…) I always knew that my good star and all the beneficial things which occurred in my life happed thanks to the generosity of others. Without their love, I would not be where I am today. And I was always conscious of it. I did not launch myself into this project only with the aim of associating my name to a cause but to actually weigh it in a determined way. In Africa, there is never an isolated problem but a succession of the problems all around. We still miss a lot of money. »
She has a very precise vision of the challenge that awaits South Africa: « we should by all means gather people. The process of reconciliation is irreversible. It was essential. We cannot claim that nothing happened and to behave as if we were a democracy as any other one. The reflection on our past is fundamental and has to serve us for future. »
Charlize Theron was born on August 7th, 1975 in Benoni, South Africa, a mining city of Transvaal situated at 25 kilometers from Johannesburg. His father, Charles is of French origin and her mother, Gerda of German origin. Charlize lived her first life years in rural areas in the farm of his parents who besides, were owners of a road building company. She learned Xhosa at the contact of workers of the family company.
But her childhood was chaotic. At the age of 12, Charlize was sent to National School Of The Arts of Johannesburg. His father Charles sunk little by little into alcoholism and became more and more violent vis-à-vis his surroundings. In 1981, came the tragedy: her mother, Gerda assaulted by her husband, shot him dead in self-defense. No legal proceeding was committed.
Her mother did everything to protect Charlize and to help her in her artistic talents. She registered him for a modeling competition. Charlize was only 16 years old, but she was already noticed by the biggest agencies. She became then professional model in Italy, in Milan. Her mother Gerda, followed her during three years before returning to South Africa and resumed her activities.
Charlize joined Joffrey Ballet School of New York, while continuing her career of model. Regrettably, she injured herself the knee after 8 months of training and she knew that she had to put an end dancer's career. It did not matter, she continued as an actress! She won the Oscar for the Best Actress for her role in Monster in 2003. The consecration.
In the middle of 1990s, she was unable to resist to the actor Craig Bierko. Then from 1997 to 2001, she lived a nice story with Stephan Jenkins, the singer of the group Third Eye Blind. In 2002, she met Stuart Townsend during the shooting of the movie Trapped, the couple parts in 2010. In March, 2012, she adopted in South Africa, a little boy named Jackson.
In 2008, Charlize Theron officially became American citizen while keeping her South African nationality.
Filmography
Movies
1995 : Children of the Corn III : Urban Harvest, of James D.R. Hickox : la jeune femme
1996 : 2 Days in the Valley, of John Herzfeld : Helga Svelgen
1996 : That Thing You Do!, of Tom Hanks : Tina Powers
1997 : Trial and Error, of Jonathan Lynn : Billie Tyler
1997 : The Devil's Adovcate, of Taylor Hackford : Mary Ann Lomax
1998 : Celebrity, of Woody Allen : la top-model
1998 : Mighty Joe Young, of Ron Underwood : Jill Young
1999 : The Yards, of James Gray : Erica Solz
1999 : The Astronaut's Wife, of Rand Ravich : Jillian Armacost
1999 : The Cider House Rules, of Lasse Hallström : Candy Kendall
2000 : Reindeer Games, of John Frankenheimer : Ashley
2000 : Men of Honor, of George Tillman Jr. : Gwen Sunday
2000 : The Legend of Bagger Vance, of Robert Redford : Adele Invergordon
2001 : Sweet November, of Pat O'Connor : Sara Deever
2001 : 15 minutes, of John Herzfeld : Rose Hearn
2001 : The Curse of the Jade Scorpion, of Woody Allen : Laura Kensington
2002 : Trapped, of Luis Mandoki : Karen Jennings
2002 : Waking Up in Reno, of Jordan Brady : Cathy Kirkendall
2003 : Italian Job, of F. Gary Gray : Stella Bridger
2003 : Monster, of Patty Jenkins : Aileen Wuornos
2004 : The Life and Death of Peter Sellers, of Stephen Hopkins : Britt Ekland
2004 : Head in the Clouds, of John Duigan : Gilda Bessé
2005 : North Country, of Niki Caro : Josey Aimes
2005 : Æon Flux, of Karyn Kusama : Æon Flux
2007 : In the Valley of Elah, of Paul Haggis : inspector Emily Sanders
2007 : Battle in Seattle, of Stuart Townsend : Ella
2008 : Sleepwalking, of Bill Maher : Joleen
2008 : Hancock, of Peter Berg : Mary
2008 : The Burning Plain, of Guillermo Arriaga : Sylvia
2009 : The Road, of John Hillcoat : the woman
2009 : Astro Boy, of David Bowers : The narrator
2011 : Young Adult, of Jason Reitman : Marvis Gray
2012 : Snow White and the Huntsman, of Rupert Sanders : the queen Ravenna
2012 : Prometheus, of Ridley Scott : Meredith Vickers
2014 : Mad Max: Fury Road, of George Miller : '
2014 : Dark Places, of Gilles Paquet-Brenner : Libby Day
Series
1997: Hollywood Confidential (TV): Sally
2005 : Arrested Development (TV series) : Rita, 5 episodes
2006 : Robot Chicken (TV series) : mother of Daniel / Mother / Waitress (voice), 1 episode
[youtube]http://www.youtube.com/watch?v=v70pNFdsBSg[/youtube] [youtube]http://www.youtube.com/watch?v=XenO29VhOow[/youtube] [youtube]http://www.youtube.com/watch?v=w0czsuSBXM0[/youtube]
Articles similaires