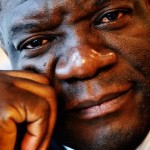 Denis Mukwege is one of the famous African doctors. This son of a Congolese pastor was born on March 1st, 1955.
February 3rd, 2014, he will be made honorary doctor of Catholic University of Louvain, a way of rewarding his non-conformism carried by liberty values, respect and audacity. "The savior of raped women" as a title given one day in Figaro Magazine.
This doctor devoted his life to all women victim of rape in Kivu, Democratic Republic of Congo, a region where conflicts have been succeeding one another since 1990. 500 000 women would have been raped in sixteen years.
He completed his secondary school in Bwindi institute in Bukavu before his certificate in biology in 1974. He spent two years in the politechnical faculty of Unikin and then started studies in medicine in 1976.
In 1983, he started his medical career at Lemera hospital in the south of Bukavu. He obtained a scholarship in 1984 and went to get specialized in gyneacology in the University of Angers in France.
In 1989, he chose to return to his country to take care of Lemera hospital for which he became the manager. "I wanted to fight against maternal mortality. After my studies in medicine in Angers, I decided to come back to Congo. In France I never see a woman dying in childbirth whereas in my country, it almost happens everyday."
In 1996, the hospital was destroyed. Many died in the battles: the victims were patients and also among the nursing staff. Dr Denis Mukwege considered himself as a miraculously saved and took refuge in Nairobi.
As soon as possible, he returned to Congo with the help of PMU (Pingstmissionens Utvecklingssamarbete), a Swedish charitable organization and founded the hospital of Panzi in Kinshasa. Denis Mukwege treated about 50 000 women and children that were raped and mutilated during battles in the east of Democratic Republic of Congo.
«I did not know I was in front of a horrifying epidemic of violence. Violence against women kept on increasing and we should talk about and react to make it stop (…) I was a doctor in peace time as well as in war time! I asked tents and materials from UNICEF."
He remembered his first patient: "I was troubled. Instead of making a caesarian to give birth, I operated a woman of around thirty years who had gunshot wounds at the level of thighs, several wounds on her reproductive organ. After I had treated her, she admitted to me to have been raped and tortured. At the beginning, I thought this was done by a single man or a barbarian"
He wanted to fight against sexual barbarity of which women were victim in the east of Congo where collective rape served as weapon of war. He wanted to help these suffering women on both physical and psychic basis, economical and legal basis as well. In addition, he specialized himself in the treatment of fistulas. It was as such that he got a honorary doctorate in the University on Umea in Sweden in October 2010. He got distinctions from the US too. The same year, He was decorated with the Valemeberg medal of the University of Michigan. In 2008, he was made the Chevalier de la Légion d'Honneur Française.
Everybody did not like his commitment to women, his success, and his regard. On October 25th, 2012, Mukwege was attacked on his way home at the center town in Bukavu. His house guard was shot dead at point-blank range for having alerted him of an imminent danger. His car was burned and Denis Mukwege was lashed, but people of the area helped him and he was safe and sound.
A new miracle in his so painful life. On October 7th, 2013, he was awarded the "Grand Prix de la Fondation Chirac" for conflicts prevention.
A life at the disposal of others!
[youtube]http://www.youtube.com/watch?v=-GmcDqrsdD0[/youtube] [youtube]http://www.youtube.com/watch?v=VT5nsIAyCuI[/youtube] [youtube]http://www.youtube.com/watch?v=MhZEAsG0Ki8[/youtube]
Articles similaires