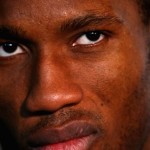 He was a golden player and he likes this material as well. Didier Drogba has just regitered 60 000 shares in the Ity Gold Mines Company (SMI).
Thus, his group holds 5 % of the Ivory Coast Company, controlled by the Canadian, La Mancha.
This acquisition was validated in June 2013 by the president of Ivory Coast, Alassane Ouattara during a Cabinet Meeting. It was then effective and Didier Drogba signed the contract on January 7th, 2014 in the presence of the Prime Minister of Ivory Coast, Daniel Kablan Duncan.
The amount of the deal was not revealed. In order to have an idea of that, we can just estimate this based on the amount the Canadian group Mancha, main shareholder of the SMI had paid out, 5,247 billion of FCFA (about 8 million euros) to take additional 9,1 % of the company last December.
When it started producing in 1991, more than 800 000 ounces of gold were extracted from the Ity mines, the oldest gold mines into service of the country.
More info on Didier Drogba – with Africa Top Sports.com–
– He was born on March 11th, 1978 in Abidjan.
– He is a cousin of Olivier Tébily – retired since 2008 -, Ivorian professional and international football player who proved himself with Chamois Niortais, Sheffield United, and Celtic Glasgow.
-His brothers Jpël Drogba and Wilfrid Drogba, Junior Drogba and Freddy Drogba also play football.
Sentimental life: 
– Married with Lalla Diakité.
– They have two sons and a daugther: Isaac, Iman and Kieran.
Performance:
as Ivorian International football player, he played in the biggest clubs of Europe and finally seduced Chinese. He won the 2012 Champions' League with Chelsea.
His clubs:
– He obtained his first license in S.C Feignies.
– 1989: he joined Abbeville Sporting Club.
– 1991-1993: he played in AGMB in Loiret.
– At 19 years old, he joined Le Man where he signed his first professional contract.
– 2002: he joined En Avant de Guigamp and finished at three points in the Champion's League!
– 2003: he signed signed a contract with Marseille and scored 19 goals in championship.
– July 2004: he was transfered to Chelsea for 38 million euros estimated.
– 19 June 2012, Didier Drogba signed 2 years and half contrat with a Chinese club in Shanghai, Shenhua.
– 28 January 2013: he left to Galatasaray while he was playing African Cup of Nations in South Africa.
Additional info: 
– 10 March 2012:  he became the first African player to have scored 100 goals in Premier League.
Records:
– Marseille:
2004: he lost the finale for Cup of UEFA
– Chelsea FC:
Championship of England in 2005, 2006 and 2010.
Winner of the Champions' League in 2012
Cup of England; 2007, 2009, 2010 and 2012
Cup of English League: 2005 and 2007
– National team in Ivory Coast:
Finalist of African Cup of Nations in 2006 and 2012
Some of his declarations:
"Cristiano Ronaldo and Lionel Messi. "Intrinsically, they are phenomenal players. We do not well realize it but they have revolutionized the statistics. Before them, it was an exploit to register around thirty goals per season in a big Championship. But They have been beyond fourty for years». France Foot. Novembre 2012
– « The next African Cup of the Nations will no doubt be my last. At a given time in life, we should make decisions. I can also confirm that if we are qualified for the World Cup 2014, it will be my last at international level.» France Foot. Novembre 2012
« It is not my last contract. If I am still operational at the end of my contract with Shanghai Shenhua in 2014, I will try new adventure; maybe to the US ». France Foot. Novembre 2012
– « I wanted to discover another culture, another world and I got it. This experience was far different from all I knew. If you look at around you, there are plenty of skyscrapers but you can also find a place where the main part of the population is composed of poor people » Le Parisien. Octobre 2012.
« I am proud even if the time difference in London where my childreen live, forces me to stay up late »Octobre 2012.
«I was convinced by Nicolas Anelka to sign a contract in Shanghaï. He also helped me getting time for my adaptation. He made things easier for me in many domains. We both made history to Chelsea, we won trophies, broke records and we met in China after which people said we were ending our career in certain way. It is an attractive winkl. »October 2012.
« My salary? According to you why do we work in life? When you work hard, you are waiting for your incomes to be increased; it is very simple. Our salaries are chocking especially in France. It makes talk but they are an exception. (…) There is jealousy towards football players who would have nothing in their brain and run after a ball, score goals and gain millions. In life, I believe we have what we deserve…» October 2012.
Articles similaires