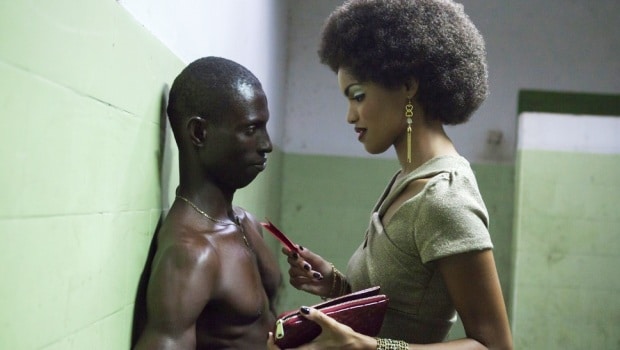 The Burkinabe capital town will vibrate from 28th February to 7th March at the rhythm of the 24th edition of the Pan-African Film and Television Festival of Ouagadougou (FESPACO).
About thirty countries participate this year in the conquest of the trophy the most desired by the African cinema.
A total of 86 film works, all categories included, will be in competition. Burkina Faso presents the largest number of productions (12) among which two movies in the category of full-length film: CELLULE 512 by Misa Hébié and L'ŒIL DU CYCLONE by Sékou Traoré. The host country of the festival is followed by Morocco with 6 works.
In the other categories, 22 movies were selected for the category of short films (3 Burkinabe movies), 20 for the category of Documentaries (2 documentaries), 9 for the category of television series (2 Burkinabe) and 15 for the movies by schools (3 Burkinabe).
Here is the official list:
1 ABL AL RABI 3 (BEFORE THE SPRING) by Ahmed ATEF (Egypt)
2 C'EST EUX LES CHIENS by Hicham LASRI (Morocco)
3 CELLULE 512 by Misa HEBIE (Burkina Faso)
4 DES ÉTOILES by Dyana GAYE (Senegal)
5 ENTRE LE MARTEAU ET L'ENCLUME by Amog LEMRA (Congo Brazzaville)
6 ESCLAVE ET COURTISANE by Christian LARA (Guadeloupe)
7 FADHMA N'SOUMER by Belkacem HADJADJ (Algeria)
8 FIEVRES by Hicham AYOUCH (Morocco)
9 FOUR CORNERS by Gabriel IAN (South Africa)
10 HAÏTI BRIDE by Ramesar YAO (Trinidad and Tobago)
1 J'AI 50 ANS by Djamel AZIZI (Algeria)
12 L'ŒIL DU CYCLONE by Sékou TRAORÉ (Burkina Faso)
13 MŌRBAYASA (THE OAT BY KOUMBA) by Cheick Fantamady CAMARA (Guinea – Conakry)
14 O ESPINHO DA ROSA (THE THORN OF ROSE) by Henriques FILIPE (Guinea-Bisau)
15 PRICE OF LOVE by Hailay HERMON (Ethiopia)
16 PRINTEMPS TUNISIEN by Raja AMARI (Tunisia)
17 RAPT A BAMAKO by Cheick Oumar SISOKO (Mali)
18 RENDER TO CAESAR by Ovbiagele DESMOND (Nigeria)
19 RUN by Philpe LA CỖTE (Ivory Coast)
20 TIMBUKTU by Abderahmane SISAKO (Mauritania)
1 A COEUR OUVERT by Ayekoro KOSSOU (Benin)
2 AISSA'S STORY by Essien IQUO (Nigeria)
3 ASHLEY by Ibrahim Ibra KWIZEKA (Burundi)
4 CHAMBRE NOIRE by Oumar Niguizié SINENTA (Mali)
5 CINQ BOITES DE LAIT by Siam MARLEY (Ivory Coast)
6 COMING HOME by Marinda STEIN (Namibia)
7 DAMARU by Agbor OBED AGBOR (Cameroon)
8 DE L'EAU ET DU SANG by Abdelilah ELJAOUHARY (Morocco)
9 DERNIERS RECOURS by Mahi BENA (Algeria)
10 JIN'NAARIYÄ (THE ALLIANCE) by Rahmatou KEITA (Niger)
11 KAMELO by Jean-Claude BOURJOLLY (Haïti)
12 KWAKU ANANSE by Owusu AKOSUA ADOMA (Ghana)
13 LA BOUCLE (THE LOOP) by Didier CHENEAU (Reunion)
14 LA DOT by Tahirou Tasséré OUEDRAOGO (Burkina Faso)
15 LES AVALES DU GRAND BLEU by Kossivi TCHINCOUN (Togo)
16 MADAMA ESTHER (MRS. ESTHER) by Luck RAZANAJAONA (Madagascar)
17 MALIKA ET LA SORCIERE by Boureima NABALOUM (Burkina Faso)
18 MOANE MORY (THE SINGLE CHILD) by Pacôme Amédée NKOULOU ALLOGO (Gabon)
19 MURUNA by Moly KANE (Senegal)
20 SOEUR OYO by Monique MBEKA PHOBA (DR Congo)
21 TWAAGA by Cédric IDO (Burkina Faso)
22 ZAKARIA by Leyla BOUZID (Tunisia)
1 0949 FEMMES  by Nassima GUESSOUM (Algaria)
2 ADY GASY (THE MALAGASY WAY) by Nantenaina LOVA (Madagascar)
3 ASNI: COURAGE, PASSION ET GLAMOUR IN ETHIOPIA by Samuel RACHEL (Ethiopia)
4 BEATS OF THE ANTONOV de  Kuka HAJOOJ (Soudan)
5 DEVOIR DE MÉMOIRE by Mamadou CISSE  (Mali)
6 EGYPT'S MODERN PHARAONS (THE PHARAONS OF THE MODERN EGYPT) by Jihan EL TAHRI (Egypt)
7 ESKLAVAJ REPARASYON (THE REPARATION OF THE SLAVERY) by Jean-Luc Sylvain Michel MIHEAYE (Togo / France)
8 INTORE, ENTRE LA DANSE ET L'ART DE LA GUERRE by Aristide MUCO / Aristide KATIHABWA (Burundi)
9 KOUKAN KOURCIA, LES MÉDIATRICES by Sani ELHADJI MAGORI (Niger)
10 LA SIRENE DE FASO FANI  by Michel K. ZONGO (Burkina Faso)
11 LA SOUFFRANCE EST UNE ECOLE DE SAGESSE  by Ariane Astrid ATODJI (Cameroon)
12 LE CHANT DES TORTUES de Jawad RHALIB (Morocco)
13 MANTUILA, UN FOU DE LA GUITARE by Michée SUNZU TSHIMANGA (DR Congo)
14 MINERS SHOT DOWN by Desai REHAD (South Africa)
15 MOMSAREW (THE INDEPENDANCE CHALLENGE) by Alassane DIAGNE (Senegal)
16 PATHS TO FREEDOM by Richard PAKLEPPA (Namibia)
17 SUR LES CHEMINS DE LA RUMBA by David-Pierre FILA  (Congo Brazzaville)
18 SUR UN AIR DE RÉVOLTE by Franck SALIN (Guadeloupe)
19 TANGO NEGRO ''THE AFRICAN ROOTS OF TANGO'' by Dom PEDRO (Angola)
20 VICTORIEUX OU MORTS MAIS JAMAIS PRISONNIERS by Mario L. DELATOUR  (Haïti)
1 « EH LES HOMMES ! EH LES FEMMES!» by Woye Apolline TRAORE (Burkina Faso)
2 CHRONIQUES AFRICAINES by Marie Christine AMON (Ivory Coast)
3 COEURS ERRANTS by Sorel AGBODEMAKOU (Benin)
4 COURSES POUR LA VIE by Francis ZOSSOU / Tiburce BOCOVO (Benin)
5 DOUGOUBA SIGUI by Boubacar SIDIBE (Mali)
6 DU JOUR AU LENDEMAIN by Adama ROAMBA (Burkina Faso)
7 LA BELLE MERE by Ebenezer KEPOMBIA (Cameroon)
8 LEX NOSTRA de Gérard DésiréNGUELE AMOUGOU (Cameroon)
9 TÔT OU TARD by S. Bernard YAMEOGO (Burkina Faso)
MOVIES BY THE AFRICAN CINEMA SCHOOLS
1 ABC, ABLONI BIEN CHOISI by Tchilalo BEBEI SOLO/ College of Film Studies (ESEC) (TOGO)
2 CROIX D'AGADEZ by Amadou Dénis Paraiso ROUFAY CHARIFATOU / Information and Communication Techniques Training Institute (IFTIC) (NIGER)
3 DELESTAGE ELECTRIQUE by Karim KONE Brico / Film Studies (MALI)
4 DINAN by Senami KPETEHOGBE / Higher Institute of Broadcasting Professions (ISMA) (BENIN)
5 ELISE by Saho Venance Simon ZOH / Higher Institute of Broadcasting Professions (ISMA) (BENIN)
6 ET SI DIEU AVAIT TORT? by Palakiyem KPATCHAA / College of Film Studies (ESEC) (TOGO)
7 JE DANSE, DONC JE SUIS by Aissata OUARMA / Higher institute of Broadcasting professions (ISSIS/SE)  (BURKINA FASO)
8 KADI (LANTERN) KADI (LANTERNE) by Lawrence AGBETSISE National Film and Television Institute (NAFTI) (GHANA)
9 KANKO L'IXELLOISE by Boubacar SANGARE / Higher Institute of Broadcasting Professions (ISSIS/SE) (BURKINA FASO)
10 KARITE, MANE DES SAVANES by Abossi Abenan Felicia KOUAKOU / BLM Group Training (ISACOM- IST- EPT- EMA) (IVORY COAST)
11 LIBERTÉ EMPRISONNÉE by Sara MIKAYIL / Film and Television Institute of Marrakech (ESAV) (MOROCCO)
12 SAGAR Pape Abdoulaye SECK by Film and Television Institute of Marrakech (ESAV) (MOROCCO)
13 STIGMATE D'UNE PRETRESSE by Prince KONG A MANENG / Higher institute of Broadcasting professions (ISMA) (BENIN)
14 THE TRAVELLER by Peter SEDUFIA/National Film and Television Institute (NAFTI) (GHANA)
15 WAKMAN de Sékou Oumar SIDIBE / Higher Institute of Broadcasting Professions (ISSIS/SE) (BURKINA FASO)
Original text by: Blaise AKAME
Articles similaires