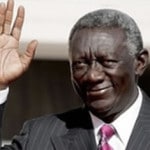 John Agyekum Kufuor was just appointed by Ban Ki Moon, the UN Secretary-General, on Monday, December 23rd, 2013, the special ambassador of the United Nations Organization on the climate change. He will be supported by the Norwegian ex-Prime Minister Jens Stoltenberg.
John Kufuor was president of Ghana from 2001 to 2009. His new mission consisted in mobilizing world heads of states and governments on the next summit on the climate which the UNO will welcome on September 23rd, 2014 in New York.
The UNO hoped to conclude on this occasion a universal, binding and ambitious agreement on the reductions of greenhouse gases responsible for the global warming.
John Agyekum Kufuorné was born on December 8th, 1938 in Kumasi from a well-to-do family, an aristocratic lineage by her mother. He was president of the Republic of Ghana from 2001 to 2009 before being a chairman of the African Union (2007-2008).
Kufuor followed studies at the University of Oxford where he studied from 1961 to 1964. He got a master's degree in economics, philosophy and political sciences. From 1965 to 1967, he was a lawyer in Ghana in a private law firm (Komfo Anokye Chambers). In 1967, he entered the civil service as an upper judicial officer and secretary for the city hall in Kumasi.
Two years later, he was elected to the constituent Assembly in the district of Arwima Nwabaya.
After the coup d'état of colonel Acheampong, he was imprisoned during one year. He was then converted into the Catholicism.
He founded with Owusu, « Popular Front Party » (PFP), an opposition party.
In 1992, he appeared for the first time at the primary elections of his party with the aim of the presidential election but was beaten by Albert Adu Boahen, an eminent academic.
In 2000, he won the presidential election of December with 48 % of votes in front of Atta Mills (candidate of National Democratic Congress, a party founded by J. Rawlings).
His first mandate was marked by a strong economic and financial recovery situation of the country.
In 2004, he was re-elected for the second mandate. Kufuor cannot be candidate anymore because he made two mandates.
He was married with Theresa Kufuor born on October 25th, 1935 with whom he got five children.
The wise man of Ghana did not stop making talk of him with his new ecological challenge in Africa and all over the world.
[youtube]http://www.youtube.com/watch?v=-9GY4lRImMM[/youtube] [youtube]http://www.youtube.com/watch?v=dLSxAgbdN-w[/youtube] [youtube]http://www.youtube.com/watch?v=dRLLgBwLwwk[/youtube]
Articles similaires