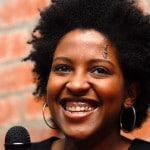 At 36 years old, Ory Okolloh has everything to her credit. She is intelligent, funny, beautiful, mother of three children, and she is the major African woman specialist of digital in Africa. She was the big boss of Google Africa and she has just joined the American Omidyar Network foundation established by Pierre Omidyar (the creator of the of on-line auction site eBay) and who has invested more than 17 million dollars (approximately 13 million euros) in Africa since 2008.
She was born in a modest family in Kenya in 1977. She got a high school diploma in political sciences at the University of Pittsburgh before making brilliant law studies in Harvard. The only shade in this picture: the death of his father of AIDS in 1999.
In 2007, she could have made fortune in a big law firm in the United States but she refused a golden contract. Ory Okolloh already knew that she wanted to focus on new technologies in Africa. She was very active on her blog where she was posting her comments on current events. She also cofounded a participative Web site, Mzalendo (« patriot », in Swahili) in order to follow Kenyan Parliament members' activities.
She created with her friends – « by chance », she said …- the software, Ushahidi (« testify », in Swahili), which will be used all around the world: an innovation for an African start-up. Ushahidi propelled Ory Okolloh to the 59th rank of 2010 classification of the most influential 100 thinkers of the world established by the American magazine Foreign Policy. This success allowed her to find funds.
Eric Schmidt, the boss of Google, for whom « Nairobi stood out as a serious technological hub and could well become African leader », also spotted her and proposed her in 2011 the management of Google. Ory Okolloh left the management of Ushahidi. Such an offer cannot be rejected…
At the head office, at Mountain View, the watchword for Africa summarizes thus: « Create the market, take position and do not monetize at once. By ten years, there will be 5 billion new Internet users in the world, mainly coming from emerging countries and of course from Africa. » With Ory Okolloh, Google is really present.
In Africa, everything is to be started on the net, she recognized: « Of course, we have come from so far away! Between 1 % and 2 % only on-line contents in the world come from Africa. But look at what we were capable of doing with our cards and the use of local languages. We are at a turning point. »
Ory Okolloh is aware that in spite of the demand, many obstacles always exist in Africa in this economy of the net: « the real challenge is the connection of the last kilometer. Bringing the high-speed internet to Africans is still too long. There are many authorizations to obtain before putting optical fiber and it has an impact on the costs. The other problem is vandalism, particularly in Nigeria in 2012. »
At Google as well as at Ushahidi, Ory Okolloh worked only two years. For many, she will not stay longer at Omidyar Network. Because her close relations are persuaded; another challenge is waiting for her: politics!
A very attractive face that did not stop seducing us…
[youtube]http://www.youtube.com/watch?v=GNLLBAYLdG0[/youtube] [youtube]http://www.youtube.com/watch?v=K4MGg5Nd_Xw[/youtube] [youtube]http://www.youtube.com/watch?v=nEnipaC7_60[/youtube]
Articles similaires