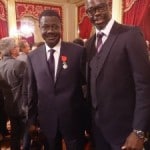 He almost touches everything. Mababa Diouf, nicknamed Pape Diouf was awarded the Legion of Honor at Elysée on October 9th, 2013.
He was born on December 18th, 1951 in Abéché (Chad). Former sports correspondent, football agent, he was the very media president of "Olympique de Marseille" football club from 2005 to 2009.
His father was responsible of the governmental garage in Fort-Lamy (current N'Djamena). From his younger age, his family settled down in Senegal and he was raised by his uncle Jean Paul. At 19 years old, his father decided that he studies in Marseille.
His father dreamed then to see him becoming a soldier. At the same time as his studies at the "Institut d'Études Politiques" (Institute of Political Studies) of Aix-en-Provence, he finally enteredy the PTT and then abandoned his studies. He made friends at work with Tony Salvatori who introduced him as freelance journalist to the newspaper "La Marseillaise" and to the Newspaper "Montpellier". He became the Mister Foot of the "Olympique of Marseille". He left the South of France for a while to participate with Xavier Couture in the launch of the sports daily "Le Sport" intended to compete with the Team. The adventure quickly got failure.
From this time he started organizing players' jubilees in Africa (Roger Milla, Saar Boubacar, Eusebio). It was by the way that he became a formidable football agent. He helped Basile Boli sign a contract and after, Joseph-Antoine Bell, Marcel Desailly, Bernard Lama, Sylvain Armand, William Gallas, Grégory Coupet, Laurent Robert or Didier Drogba and Samir Nasri the same whom he has spotted since the age of 13 years.
In 2004, he changed his cap and put on a new costume. "Olympique de Marseille" recruited him as general manager of the club in charge of sports affairs. He did not stop climbing levels… In autumn 2004, he was appointed as Chairman of the Managing Board of "Olympique de Marseille" by the supervisory board of the club, within a trio that was also consisted of Vivian Corzani for the administrative and Philippe Maurice for the finances. In 2005 he became president of "Olympique de Marseille" under the influence of the majority shareholder, the late Robert Louis-Dreyfus.
Under his presidency, "Olympique de Marseille" recovered: 5th in 2005-2006, then 2nd in 2006-2007, 3rd in 2007-2008, and 2nd in 2008-2009. "Olympique de Marseille" restarted taking part in Champions' League. It also reached French cup finale two consecutive times (loser in 2006 in front of Paris Saint-Germain and in 2007 in front of FC Sochaux).
Pape Diouf remains today the only Black manager of a club playing Premier League in all Europe. « I am the only Black president of a club in Europe. It is a painful report towards European community and especially, French that excludes ethnic minorities. »
Pape Diouf left the presidency of "Olympique de Marseille" on June, 17th 2009 after 5 years of rule.
Since 2010, he has been by the besides of Jean-Pierre Foucault, a shareholder of the European communication school and the « Institut européen de journalism » in Marseille. He is also a consultant on sports bets for soccer with a regular sports column on sport and forecasts on matches.
His little sentences:
« In this cock fight, we were chicks. »
« Racism has no color, it is a universal stupidity. »
[youtube]http://www.youtube.com/watch?v=snihh7vIbwo[/youtube] [youtube]http://www.youtube.com/watch?v=ye8qj0CTdOk[/youtube] [youtube]http://www.youtube.com/watch?v=kMtAkzBStr0[/youtube]
Articles similaires