She was very smart and had a promising future!
As Africa Top Success reported it last week, the death of Awa Fadiga, a young 23-year-old model from Ivory Coast that died last Tuesday at emergency of Cocody Teaching Hospital in Abidjan continue to shatter the continent.
And according to some people, she would have been saved if she had been well taken care of upon her admission to the hospital. The tragedy was reported by site des Observateurs de France 24.
A Facebook page is created: «Awa Fadiga, stop, no more this» and over 1O OOO « like » so fast!
Awa Fadiga would have been attacked on 23rd March at early evening with bladed weapon by a taxi driver. Passers-by came to her assistance around 11:00 pm. She was then taken care by the help. According to the Ministry of Health, she was already « in a comatose state ».
But according to her close relations, she would not be taken care of till 01:00 pm the next day since her admission to emergency. « The reason would be non-payment of medical expenses required by the hospital », they asserted.
The young model died on Tuesday at 07:00 am In spite of several hours of intensive care.
The hospital, joined by France 24, denied via its communication department this version of the facts and asserted that the young woman had been well taken care upon her admission.
In a communiqué published on 25th March, the ministry of health also confirmed that Awa Fadiga « received the first medical aid required for her state by venous line including a cleaning and body care by the waitresses with soapy and antiseptic water ».
The ministry considered that the victim « died further to an inadmissible and unbearable aggression which does not engage the responsibility of health services. »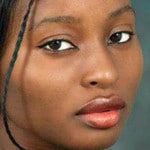 Today, the mother of the victim takes the floor and continues blaming:
Lady Fadiga Sirakoné is still under shock of the death of her only child.
« Awa was not attacked with a bladed weapon nor raped by his kidnappers. They did not take anything from her. The proof is that all she had in her bag and her money are with me here. Her mobile phones also. These bandits are the only one to know why they committed this crime. »
« When doctors saw us arriving with the policeman, they gave order to a nurse to put her on a bed and immediately gave us a prescription which represented the first aids. Imagine yourselves, my daughter being at the Teaching Hospital since Sunday at 11 pm until our arrival on Monday at 1 pm. The prescription cost us 12 000 FCFA, I repeat: 12 000 FCFA. It was for this amount of money that my daughter was left aside all night long. They killed my daughter for 12000 FCFA (tears,…)
She specified that doctors informed the family that it was necessary for the victim to be directed to scanner department while indicating that the one on the spot being failing. She was then admitted in the private hospital situated in front of the school André Malraux at Riviera.
Her transport took place in an ambulance of SAMU (Emergency Medical Service). « My daughter started having respiratory troubles without a doctor taking care of her. My sister had to enter by force professor office so that he orders doctors to send her to resuscitation room. And in the room, the device which had to be of use to the pump, a doctor told us that it was his private property and he was not obliged to give it to us as help ».
« When Awa died, I went to the office of the professor to ask him a single question. I asked him if there was no medicine for first aids in the Teaching Hospital to let my daughter die like that. He answered to me: « Madam, all that government says in the media is different from what the realities shows on the field. The Teaching Hospital of Cocody has no medicine for first aids (…) The Teaching Hospital of Cocody was responsible for the death of Awa. They took the oath of treating people; they do not have right to let people die for 12 000 FCFA. I am not going to abandon this case; from my daughter, nobody should die in a hospital for first aids. I do not want deaths any more for first aids in the country. I am going to fight until justice is done. I thank everybody, especially you, press agents, social networks for the mobilization around my daughter. I will return to the attack after the funeral. I am a revolted mother and I am going to shout it to the whole world. I am waiting for the autopsy on behalf of the Public prosecutor who told me on Thursday that I could not bury the corpse of my daughter, because her corpse belonged then to the whole world, thus the circumstances of her death should be clarified. He promised me the results on Monday the latest. Certainly on Tuesday, she would be buried. I shall go up till the end. It is cruel, but this would have happened in Ivory Coast for the last time ».
Original text by: Nicolas Coutain
Articles similaires