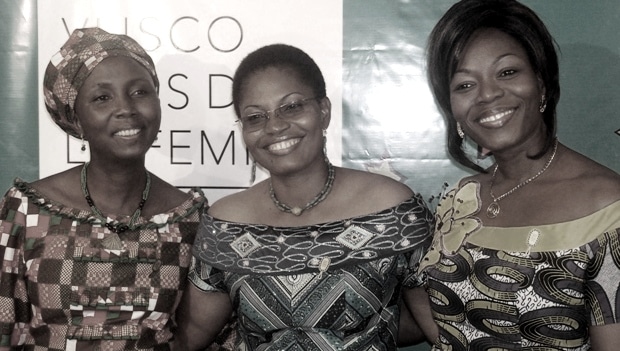 With the great success of the two previous editions, the producer of the Dutch real wax has just launched the 3rd edition of the Vlisco Woman Month under the theme: « Live the dream« .
The initiative aims at encouraging the exceptional success of women from Central and West Africa by appreciating and rewarding those who incite others to achieve their dreams. This, within the framework of the International Women's Day celebrated on every 8th March worldwide.
In Togo, three (03) exceptional women are nominated for the title of Vlisco Ambassadress 2015, namely:
Nr1: Mrs. Essivi Mimi BOSSOU-SOEDJEDE, manager and founder of the Youth club, the TV5 World House. Vlisco nominated her for her work within her community and her commitment for the Togolese youth.
Nr2: Mrs. Janine Akossiwa DEGBE-KINVI, writer and Business manager. Vlisco nominated her for her commitment for girls for their access to education and for women for their well-being and personal fulfillment.
Nr3: Mrs. Chantal DONVIDE, founder of the Aklala Batik Company. Vlisco nominated her for her contribution to the development of girls and women generally, by her training activities in entrepreneurship and her commitment in the community.
The vote has started since 1st March and continues till 25th March on www.dream.vlisco.com or by SMS to (00228) 92 92 92 92 or by ballot paper in boxes established in Vlisco shops.
The general public is invited to massively participate in this voting operation and win various prizes at the same time.
Vlisco Ambassadress 2015 for Togo will be revealed on the occasion of a prestigious evening that will be held on 11th April of this year in Lomé.
Kindly note that the operation simultaneously takes place in the six (06) countries where Vlisco is established namely DRC, Togo, Benin, Ivory Coast, Ghana and Nigeria.
Still within the framework of the Vlisco Women's Month 2015, the label gives the possibility to fashion designers to be through a fashion-project financing program called « Vlisco Fashion Fund« .
The novice designers are thus invited from 1st to 15th March to show their « business plan » on www.dream.vlisco.com/fashionfund in order to have chance to win high-level trainings in sewing, professional kit for starting up in fashion and adequate financing.
We should note that a winner (female) will be chosen in every country where Vlisco Women's Month campaign takes place.
Through this program, Vlisco intends thus to encourage the talents in fashion throughout Africa.
The nominees will moreover carry out their social projects during the campaign towards Togolese women and girls regarding education, health, vocational training, sexuality, etc. During these meetings, they will have to share their experiences to encourage other women to face their own challenges and achieve their dreams.
« It is good to dress women but it is also better to put forward what they have deeper in them« , supported Mrs. Barbara Amouzou-Lokadi, Network Marketing Manager of VAC Togo.
The Vlisco Women's Month joins the Vlisco African Company social program, an event the company intends to immortalize from generation to generation.
Original text by:Blaise AKAME 
Articles similaires