Kossi Aguessy, the Togolese magician of design!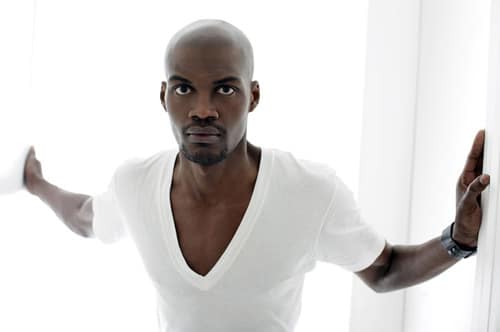 KossiGan Baaba – Thunde Aguessy commonly known as Kossi Aguessy was born on 17 April 1977 in Lomé, Togo from a Togolese father and a Brazilian mother. He became one of the greatest designers in the world at 20 years! At 13 years, it is true, he was already an A-level holder!
His story is pretty amazing.
From the age of 3 years, he lives in New York with his mother. Considered as gifted he is educated in special schools. Kossi tends to lock himself in his room. One day he empties a clothes closet and transformed it into a building. His mother mercilessly destroyed the house of his dreams. « She responded well because she was scared. I was building another reality. »
Enrolled at the French school in New York, Kossi got his A-level at the age of 13 years. His mother offers him a holiday in London where he dreams of becoming a designer…
Kossi Aguessy studied Industrial Design and Interior Architecture at the Central St Martin 's College in London (where people like John Galliano, Alexander McQueen, Stella McCartney got trained).
Again the story is quite exceptional. His mother has a different destiny for him and refuses to invest in this school. He passes the entrance examination gently and gets a scholarship. "From London, I called my half – sister to inform my mother. Response from her:  » If you do not come in two days, you're not my son . « I stayed . She did not mention it again until I graduated six years later.  »
Kossi is on a cloud; he realized his dream and founded a new family. « For the first time in my life, I was no longer a beast contest. My classmates looked like me. At St. Martins, was told: "You're here to learn to control what you are and not to learn who you are, for that, you already know. »
During a trip to Barcelona, ​​he has a new revelation: "I ​​finally accepted the madness that is attributed to me. Gaudí, Einstein and others were crazy. But it is they who have built the world in which we live.  »
Today, he shares his life between Togo, France and the United States .
His beginnings were not that simple, however. Philippe Starck , the famous French designer gives him a chance in 2001. « For four years I worked for him. It was a little factory, but I learned a lot. It helped me draw in my heart ».
He worked with the biggest brands, creates the perfume bottle of Stella McCartney, then collaborated with Yves Saint Laurent, Swarovski and Cartier…
It was he who designed the monument celebrating the 50th anniversary of the independence of Togo.
His trademark? The mixture of materials. He lives from his African and Brazilian origins. « Brazil, where as a child, I spent all my holidays, brought me this beautiful culture, material, miscegenation and memory."
He defines himself as a « researcher of a design" that "draws the future. »
Kossi Aguessy is also a painter
« I invested 200 % and spend all my time with my customer to understand how he lives and moves in space. I must reach to feel things like him. This is very disturbing and quite schizophrenic!  »
Great pride of Kossi Aguessy "I never had a dissatisfied customer!".
He started with the designer Samy Aïtali a collection of furniture ,  » Organicology  » he manages another collection  » DAMN ! « , In collaboration with Fermob brand.
His dream: to develop his own brand with the opening of a research laboratory in Rotterdam, a production line in France, and stores around the world (New York, Paris, Dubai, etc. . .).
He is very sensitive to ecology. "My first job was to design a new interior for the Espace Renault, then for Megane and Avantime. Today, if it is to redone, I would demand to have my say in the composition of materials and engineering. I am convinced of the need to work with renewable energy and unable to continue with the all- polluting!  »
He does not forget his native country: « Africa of my father gave me a vision of the world. Even though I 'm back once in Togo at the age of 10 years, and I have no contact with my father, I've never cut my roots. Thanks to my mother, I speak Yoruba and mina. Africa should not be cut off from their ancestral values. To catch up, it must have the courage to jump a step: forget today to think better of tomorrow.  »
[youtube]http://www.youtube.com/watch?v=A-oB_OjSzLo[/youtube]
Articles similaires