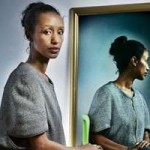 In a few years, this stylist from Eritrea emerged with her collections and her short-lived shops throughout all Europe.
Though she left her country at the age of 6, she has both cultures which she perfectly assumes: «I do not know if I feel European or rather African, she said. I love black skin, what is even a euphemism, but I also like sunny colors of the wax."
She emerged with her creation known as Negassi with double "s" unlike her own name. Bisrat Negasi dresses many African stars: the Nigerian singer Ayo, the American jazzwoman Rad, the Sierra Leonean singer Patrice and the French-Senegalese actress Aïssa Maïga. She also opened many short-lived shops.
Mother of a 6-year-old girl, Bisrat was born on December 24th in Asmara but refused to reveal the year. This small girl is the third child and they will be four of a dressmaker who is a cartographer, owner of a clothing store and a restaurant, Menafisha.
She always remembers what she witnessed in her childhood: "the smell of the apricot tree in the garden, the taste of pomegranates, but also the fear for Ethiopian soldiers while passing in front of our door and bombings. This still troubles my mind today reason why I hate fireworks.  »
Bisrat Negasi went to exile at the age of 6 with her parents committed in the fight for independence.  « It took us six months to reach Sudan on foot, on camel back, by car together with groups of Resistance fighters. I could not understand what was going on and I thought we were going to visit my grandmother. I only found it very long because she lived in Asmara "
His father managed to join Germany where he was helped by a priest. She stayed with her mother in the hope to meet her grandmother. «Every day, around 4 pm, I get dressed and I disguise myself with all I could find. It was at that time I began to be interested in clothes.
Two years later, his father succeeded in bringing all the family in Hanover, Germany. Bisrat was only 8 years old and the shock was terrible for her as she was the only Black in her school and could not understand the language. She had to wear clothes « as heavy as cupboards « .
A few months later, the family was settled in Hamburg where very soon, she got accustomed to her new life. She made confidences in "Jeune Afrique" magazine: «suddenly, I no more looked like that foreigner, but the Black that made evenings funny at a time where the hip-hop influenced all Europe. I was exotic, but I tried to be normal!  »
She dreamed of becoming a doctor but she did not like blood, or architect but she thought it would take much time. « I like having ideas that I can achieve but it will take years for a building…  »
By a training course to the Malian Lamine Kouyaté (Xuly Bët), she started having passion for design, where her vocation was born. Bisrat decided to get trained to find her way to success. Certified in design after four years studies, she had worked with Manolo Blahnik for six months in New York, and then settled in France.
She got married and returned with the man of her life in Hamburg. In 2004, she launched her trademark, Negassi.
In spite of her success, Bisrat Negasi did not forget Africa at all, especially Eritrea. «My relatives live there. I often go there and I keep it in my heart. I would like to achieve something there. My family is politicized, and my point of view on Eritrea is different from what we hear abroad. It is so much complicated … »
Articles similaires