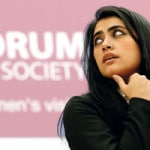 Salwa Idrissi Akhannouch was born with a golden spoon. And she succeeded by her own and she even embodies today one the greatest success of Morocco and Africa.
She is the Chief Executive Officer and a founder of Aksal Group, Moroccan leader in the domains of Retail, Luxury, shopping malls and department stores.
Her group Aksal holds 50 % of Morocco Mall, the biggest shopping mall of Africa. In Casablanca, her center which was inaugurated in 2011, covers more than 250 000 m2! It attracts every year 15 million visitors and generates a turnover estimated at 5 billion dirhams.
In 2012, she received in Cannes, a MIPIM Award in the category of the best shopping mall on the architectural plan.
Salwa Idrissi Akhannouch possesses, via its empire, the exclusivity in Morocco for fashion brands such as Zara, Banana Republic, Pull & Bear and Gap GPS. She is described as the queen of the franchises…
Salwa Akhannouch is the granddaughter of Haj Ahmed Belfiqih, a businessman who had the virtual monopoly of tea business in the 1960s. She is also the wife of a rich businessman and a Moroccan politician, Aziz Akhannouch.
Salwa Idrissi Akhannouch's nice adventure began in 1993 when she created a distribution company of floor laying materials. She quickly specialized herself in the franchises and got the one of Zara in 2004 for Morocco. In 2006, she obtained the Massimo Dutti brand.
« Being a woman has never seemed to me as an obstacle in my career. The fact of being the founder of such a group cast a positive image which can create a craze. It helped me to attract and to recruit among the best feminine profiles of Morocco and to mobilize skills in various jobs of fashion. At Aksal – and it is not a calculated will – we have as so many men as women, at every level. It is at a very great part due to the sector in which the group works, but it produces in any case extraordinary synergies. »
She was even herself the first surprise: luxury is one of the backgrounds of her Morocco Mall. She adores and makes share her passion of prestigious brands as Gucci, Dior or Louis Vuitton. Her pride: "Brands as Prada, Miu Miu or Louis Vuitton were not even canvassed: they emerged alone. »
Her ambition is clear: « make of her brand the biggest shopping mall of Africa – except for South Africa – And thus dethrone the recent Algerian complex of Bab Ezzouar. In Morocco, we are still only in the beginning of the sector: all remains to be done. A segment as that of luxury should increase at least at 20 % a year… We are going to launch in the country some other great international brands. As far as shopping malls are concerned, it is necessary for us to strengthen at first the launch of Morocco Mall. With that, we will carefully follow what takes place in Rabat and in Agadir, but also at international level. »
A princess of business who is continues to be at the top and still shining…
Articles similaires