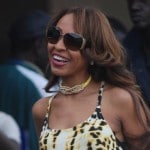 Viviane Chidid is the Senegalese great voice of Mbalax and R & B. She was born on March 8th, 1972 in Mbour, a harbour city in the South of Dakar (Senegal).
It was a friend of his father who launched her career. Conquered by her charisma and her voice, Aly Jaber helped her to present in hotels with friends artists. « Very young, I liked music. I sang at home, at school … to such extent that I even had difficulty in learning my lessons, so many melodies were roaming in my mind! »
From 1993, she became a chorus-singer in the group of Youssou N'Dour. She continued in concerts with Neneh Cherry, Seven Seconds. She got married with Bouba N'Dour, the brother of Youssou N'dour, who will become her own manager. The couple divorced in 2007 before remarrying in 2010. In 2011, they definitively divorced…
In 1989, she brought out her first solo album, « Entre nous ». She continued and because successful, the second album one the year later, "Nature".
In 2001, she completely fended for herself with her own group baptized « Djolof Band », but however remained chorus-singer of Super Étoile on occasion of big balls organized by the latter. She brought out the first album of her group, The Show
In 2002, she was still surfing on success with her fourth album « Téré Nelaw », songs written for the praises of « Lions of Teranga » putting forward their exploits during the Soccer World Cup 2002 in Korea.
Attacked for Sammina de Elhage Faye's plagiarism, she lost her trial and had to pay an amount of 5 million CFA franc to the song interpreter.
She bounced in rap! With Senegalese rappers, Awadi, Khuman, Carlou D, Pacotille, Foumalade; she brought out an album which was entitled Esprit, a rap album, the most ever sold in Senegal history.
In August, 2013, she was very afraid when she was attacked by an armed man when coming back home at about 5 o'clock in the morning and she was dispossessed of her vehicle, a powerful 4×4 and of her handbag.
« My ambition is to go farther again in my music »
Let her summarize her philosophy of life: « Mbalax is my music. The one that comes from my beloved country, Senegal. It will always be a part of my life. I always also liked the variety because it allows an opening towards a public still more numerous. It is true that I am often abroad for my business but I shall never abandon Senegal for another country (…) There is no secret. What is important is just to be self-confident and work hard. It is God that created all human beings; if we believe it that way, we cannot be mistaken ourselves. »
She also has a son, Philippe who is following her footsteps… 'My son is a good singer and would I be against? Then for which purpose should I be against the fact that he sings? I support him. My daughter Zeyna, even sings better than Philippe, but she does not want. »
Discography
1999 Entre Nous
2000 Nature
2001 Le show
2002 Tere Nelaw
2003 Fii Ak Fee
2004 Esprit
2006 Man Diarra
2008 Bataclan Café
2010 Wooy Yaay Yooy
[youtube]https://www.youtube.com/watch?v=HtvvYYTnyN0[/youtube] [youtube]https://www.youtube.com/watch?v=WfKsfr8sNdU[/youtube] [youtube]https://www.youtube.com/watch?v=R8P8xk4FSN8[/youtube]
Articles similaires