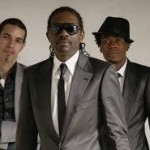 They are three buddies who are a hit with their group X-Maleya. Roger and Auguste are Cameroonian. Haïssama is a half-blood from an American father and a French-Cameroonian mother.
They sing in bassa, in French and in English!
They met in a high school and dreamed about a fate of rock stars!
Haïs was the last one to join the group, and he never leaves his guitar.
They have nourished big projects and were conscious « that many things again were to be perfected « .
They are nevertheless at their fourth album: « Exil » in 2006, « X Maleya » in 2009, « 'Tous ensemble » in 2011 and « Revolution » in 2013. The latter was sold up to 10 000 copies the first day of its release!
« Only God can give, He will not drop us down, without Whom nothing of that kind would be possible ».
Roger Samnig recognized that the group has become more professional: « we worked in the best studio of Paris and with the best mixer of Paris. We also benefited from the contribution of some of the best musicians from the area, Etienne Mbappe and Guy Nsangue, but also Ruben Binam, our former producer with whom we continue to work.
We made revolution at all levels. I have already told you about the revolution at the level of the sound. But there was revolution also at the level of marketing approach: the big poster in Yaoundé city center to announce the coming out of the album, it is again something new in Cameroon; we had never seen that before. We think we have to innovate for our country and we are not disappointed by the result, because everybody was waiting for this album.
We were guided by inspiration and we made no calculation at first when we composed our songs. It is true that this collaboration with Chindinma could give us an opening towards English-speaking Africa, but at first it was simply about an artistic exchange. Moreover, it is necessary to say that it was her who insisted on making a song with us. We made a concert together in Cameroon and since then, she kept on working with us. The result was rather wonderful because the public already liked this song. « 
In a few days, the group planned to work with a world big size, Pharrell Williams!
And Roger speaks with conviction of the new level to which his group is going to take the project: « I believe that in the next months, people will understand where X-Maleya wants to go. This way has to be shown, because at the moment, it is necessary to decide, either you make music only for your friends in Douala, in Yaoundé, in Bafoussam, in Ngaoundéré, etc., or you decide to conquer the world and I believe that our direction today, is to be open to other markets, not only to stay in Cameroon, because human being gets tired. People begin to understand that there is something taking place in Cameroon and our duty it is to promote our country. It is a challenge! X-Maleya does not write a movie, X-Maleya writes long series. »
The collaboration with Pharrell will start in a few days in March.
Happy !
A trio to be followed!
[youtube]http://www.youtube.com/watch?v=m5VXDibTDDs[/youtube] [youtube]http://www.youtube.com/watch?v=tSX7toAoLbE[/youtube]
Articles similaires