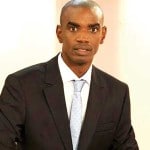 « At first, I dreamed of being a sports correspondent. Sport was my passion and I inevitably wanted to do it. So, wherever I could do it, it would be good for me. Fortunately today, I have the opportunity to do it in the place where it is done the best. It is at Canal+ and I am delighted »!
Senegalese, Aboubacry Ba, was known as sports correspondent previously at the RTS.
He joined Canal+ in September 2012, where he co-presents the program "Talents d'Afrique" with Philippe Doucet. He tells with emotion their meeting: « I was working at the Senegalese television. Philippe Doucet who knows well Africa, got acquainted. He suggested me to come and join them. My dream became true. »
To the question, « What is the difference between an African sporting channel and another one in Europe? », he answered: « The means! Yeah, it is clear; it is the means which make the difference. When we have means, we can tolerate many things; we can set up a first-class organization. We can allow what is best done. The advantage of Canal, it is because the channel has the means of its policy. Over there, we are told: « all that we expect from you is to be the best. » It is not a matter of working on a program and being worried about all necessaries you need such as: « Will they provide this or that « . It is not your concern. Your work, it is to talk about the contents. Thus finally, the difference is at first, economic. »
Fond of the soccer, he is going to follow with a very high attention the next world cup in Brazil. And he has to follow in particular the five qualified African teams – Nigeria, Algeria, Ivory Coast, Cameroon and Ghana (CM-2014: The point on the qualified African teams) – He is not afraid of declaring: « For the moment,  I do not see any African country being a finalist or winning the world cup. An African team can go beyond the barriers of the perfomances of a nation on the continent. (…) Being in a favorable position, an African team can find itself in the last square of the world cup. Winning the world cup remains however, a long-term business. It is the sacrifice which African teams cannot yet make. It is generation over generation that the world cup is planned. It is one of the rare competitions where there is no fate. The winner is often prepared to win. « 
On the other hand, Aboubacry Ba was not afraid of asserting that "in terms of individual performance, Yaya Touré is the best player of the world to my mind".
Father of two children, he admitted not to be a TV addict: « I do not like watching TV too much. When I am not on duty, I like going out or reading. I like reading. In all, my life is not only made of sport fortunately. I would have had the impression to be working all the time. That's why I do not like watching matches on TV. When I finish a match and I go back home, I prefer doing something else than watching TV. Not the soccer in anyway! »
A brilliant presenter to follow.
[youtube]http://www.youtube.com/watch?v=hUe2CX6efVo[/youtube]
Articles similaires