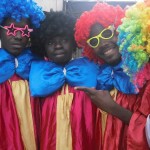 Anyone can't help bursting into laughter when following their entertainment. Extravagant disguises, musical instruments made with recycled waste, they have everything to seduce their audience. What was at first an idea of teenagers became a professional activity that gave reputation to these young people beyond their native country.
Mentolato is a group of six young Togolese very requested for entertainments in Lomé and inside the country. From nothing, they became Togolese idols and are often invited to appear in video clips. Africa Top Success met these young people who created a kind of humor peculiar to them.
Hello! Could you please tell us about Mentolato group?
Hello, MENTOLATO is a group of Togolese humorists, former classmates all native of Kpalimé gathered for a musical. The group counts a total of six (6) artists among whom a maestro (conductor), a drum beater, a pianist, a solo guitarist, a bass guitarist and a cameraman. So we have:
– AYIVI Bidi Koffi Mawuko alias AYIROS Agombio: MENTOLATO pianist, trader (dead)
– AMEGAN Enyo Souleyman alias SOULERES Bicraveur: MENTOLATO bass guitarist, Cashier at MCT
– AROUKA Kossi alias GBOSMITO: MENTOLATO solo Guitarist, Auditor (jobless)
– DANSOU Komlan Richard alias RIRI of Paris: MENTOLATO drum beater, Student in Sociology at the University of LOMÉ
– ESSEH Atchou alias DOUG' MEN: MENTOLATO cameraman, trader
– DEGBOE Atsu Séna alias CLODIO the Genius: MENTOLATO conductor, Sales agent at UAT insurance.
How did you get the idea of creating a musical group?
MENTOLATO at first was a group of friends of class who just wanted to entertain school audience during the celebration of cultural week at school in 2001 in Kpalimé. The name MENTOLATO came later because after entertainments, the audience is often very amazed and sometimes pours tears as if their eyes were in contact with mint. We then chose MENTOLATO because mint in vernacular language in TOGO is called MENTOLATO.
What is the specialty of the group?
The MENTOLATO is specialized in musical, songs composition accompanied with dance and funny gestures.
Who can request the services of the group?
The services of MENTOLATO group are at the disposal of everybody, any event planners without distinction of religious, ethnical or political groups.
What are your projects for year 2014? Shootings on international level?
The projects of MENTOLATO are among others: realization of a clip of the 2nd song entitled OFFRANDE, a Gospel song full of other scenarios. We are even planning collaborations with national artist singers and humorists.
Do you think that the group can live exclusively on comedy?
Yes! We think very well that with a good production team and promotion around MENTOLATO, we can well live on activities of this group.
A word towards your fans
To all our fans, in any event, we shall always remain your favorite artist; we promise you plenty videos, plenty scenarios, plenty smile for 2014 and you will never be disappointed. In short to our fans: « DO NOT BE AFRAID! »
 Thanks.
Original text by:
Roger ADZAFO
Articles similaires