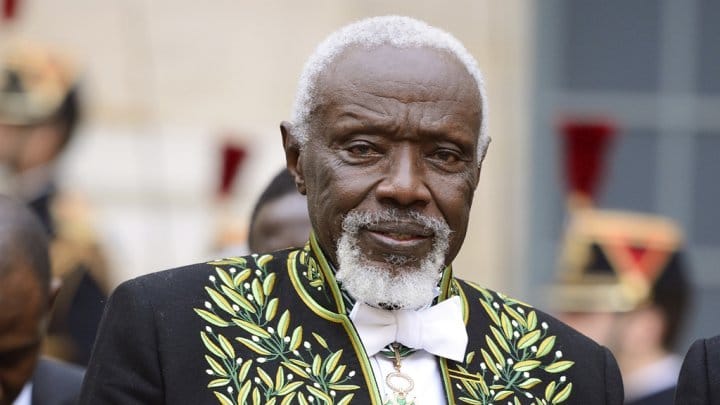 Wednesday, December 11, Senegalese sculptor Ousmane Sow was installed at the Beaux Arts Academy in Paris . A beautiful dedication to the Senegalese sculptor known for his series of monumental sculptures devoted to African tribes ( Nuba , Fulani , Masai , Zulu ) .
"My election of 12 April 2011 has even more value to me as you've always had the wisdom not to introduce racial, ethnic or religious quota before someone gets admitted among you (…). As my colleague and fellow Senegalese Leopold Sedar Senghor, elected to the French Academy thirty years ago, I am Africanist. In this spirit, I dedicate this ceremony to the whole Africa , its diaspora , as well as the great man who has just left us, Nelson Mandela,«  he said.
He was dressed by fashion designer Azzedine Alaïa, and he wore a sword which he had himself made the pommel.
Ousmane Sow was born in Dakar in 1935. He also was well known with his work dedicated to the great men such as Nelson Mandela, Martin Luther King, Mohamed Ali and Gandhi.
In 1957, Ousmane Sow left Senegal for France where she was compelled to abandon his plan to integrate the Beaux Arts Academy due to lack of means. He graduated nurse and physiotherapist doing his apprenticeship with Boris Dolto. He worked for twenty years at the Laennec Hospital in Paris.
When he has spare time, he pursues his artistic passion and his research on materials.
In 1965, he returned to Senegal and creates the physiotherapy department at the "Le Dantec" hospital.
In 1968, he got back again in France, where he opened a private department in Montreuil .
In 1984 he decided to return to Senegal and open a private physiotherapy department.
But at age 50, he decided to devote himself entirely to sculpture. He was able to live with a very personal technique that has taken years to develop and which he jealously guarded secretly.
In 1988 he exhibited for the first time at the French Cultural Center in Dakar. He then earned a quick fame first in France , Germany, Japan, America, Belgium .
In 1999, the exhibition of his works, including the series Little Big Horn, on the Pont des Arts, Paris attracted three million people !
On December 11, 2013, he became the first Black to join the Beaux Arts Academy in Paris, France.
Read also:
Fatou N'Diaye: « Fatou la Malienne" revealed by Oliviero Toscani
Nelson Mandela: his memorable words!
Flora Coquerel: Miss France 2014 is French-Beninese … "I'll remain it for my life!"
Jaqueline Nakiri Nalubale alias Jaquee: the most African of Swedish ladies!
Kossi Aguessy, the Togolese magician of design!
http://www.youtube.com/watch?v=3ELiVmIHeJQ
http://www.youtube.com/watch?v=EwcHpHAS500
http://www.youtube.com/watch?v=qe_9N3h2Mq0
Articles similaires