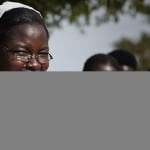 A saint! Esther Madudu devotes his life to others. She is a midwife in the small village of Katine, in the district of Soroti in the East. She works the 24 hours a day and she delivers about 45 and 50 babies per month.
She devotes her life « to improve the maternal health » and it is she who embodies the Association for the medicine and the research in Africa (Amref) which decided to present this Ugandan midwife to the Nobel Peace Prize 2015!
« Before, nobody paid attention to midwives in Africa. With me, people became aware of our importance »
She is very attached to this prize. And she will try all possible to win. Not for her but for all these women whom she supports in their everyday life: « I am still not well known, but it remains me two years ahead to become it. And the star, she smiles, it will not be me Esther, but all the women of the continent. In Europe, people do neither know our working conditions, nor the environment in which we operate. All those to whom I tell my story are affected by our cause. I thus have to talk, over and over again! »
His vocation derived from when her grandmother, traditional midwife, authorized her to come and assist her in her job. She remembers it as if it was just yesterday: « I was ten years old and it was my first time to assist a delivery. This was when I wanted to become a nurse. When I told about it to my grandmother, she answered me: « you will go to school to learn what I do not know », she said.
Her midwife's diploma in pocket, she stated practicing in her native rural region, at more than six hours of road from Kampala. « It is sure, we are lacking equipment. But what are especially lacking are midwives. We know how to stop bleedings or to take care of pregnant women who are affected by the AIDS. It is basic knowledge, but which saves life« .
She also remembered her first delivery: « I was trembling with all my limbs. I was very impressed in front of what looked like an enormous ball. Two things worried me: the health of the child of course – I wondered how I was going to manage to catch the baby with these sliding latex gloves! – but also the health of the mom. (…) When the baby finally came out and started crying, it was an enormous relief. My guardian told me: ' you succeeded. You even very well succeeded this delivery. « And I said myself: 'that's it, I am a midwife!' » But at once, far from being distracted by this event that we nevertheless imagine exhilarating, Esther preoccupied, took care of the mom, who, thanks to her, got out healthy. « I did not know what to do with this quite sticky placenta which disgusted me! She funnily said again. I said to myself that it looked like the beef, moreover I never eat it! « 
Esther Madudu is very sensitive to the evolutions of his job and the medicine. She studies as soon as she can in e-learning. « When we are midwives in Africa, we are also an adviser, because women, who come to see you, come with all ther problems, their questions and their doubts. We are also an obstetrician, a general practitioner … We make prenatal, postnatal follow-up and delivery. We also have to manage the complications, such as the deliveries of HIV-positive mothers ».
By 2015, the target of Amref is to train 15 000 midwives all over the continent to reduce maternal mortality and infantile also. »
Esther would have already saved more than one thousand lives during her career. « To see a mother and her child all in good health after the delivery, it is what makes me happy everyday. I believe I carry it in my blood! »

You can vote for her
[youtube]http://www.youtube.com/watch?v=C7QVuRTJpP8[/youtube][/youtube] [youtube]http://www.youtube.com/watch?v=hbzIaHPF4fs[/youtube][/youtube]
http://www.youtube.com/watch?v=mGXtc9lmz-Y[/youtube]
Articles similaires