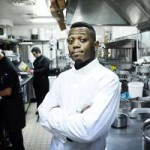 This 29-year-old young French-Ivorian is the head-cook who rises. He has a little everything for him; he is handsome, funny, and vigorous with a real desire to become one of the greatest cooks of his generation. He does not stop making many palaces salivate …
« Tabbouleh of attiéké and poached quail's eggs », « yams stuffed in the tomato with sardine, olive oil with cocoa in pipette », « pannacotta of hibiscus with monkey bread » are a part of some of his specialities.
Jeune Afrique magazine summarized his talent thus: « He adores working on African products with foreign techniques in order to obtain new flavors."
He recognized with modestly: « I work on feeling. I can be inspired at any time. »
Loïc Dablé likes also sharing his recipes on social networks and on TV channels: he did not hesitate to give media coverage particularly when accepting to be a juryman for the Pan-African culinary broadcast program "Star chief-cook", broadcasted on twenty channels of the continent. Thibault Pierart, associated director of the production declared: « Loïc is very talented and has a very modern use of African cooking. He is moreover young, a handsome boy, he has a real style. » He is also a columnist on Africa N°1 radio station.
In Paris where he lives, he gives cooking courses « afro-fusion in trendy places and he operates behind stoves in the flashy bar of W hotel.
Before reaching this stage, he also had a hard time! Elder son of a family of three children, he was raised by her mother. He recognized to have had an agitated adolescence. In short, he was given a last chance: « prison or training ».
He studies then in the "Ecole de Paris des Métiers de la Table" (School of Paris for cooking) and made his apprenticeship at the Bressane Inn. He remembered: « there, I met Tanguy Le Gall, a head-cook who had a lot of character and helped me so that he made me love the job. (…) I took the subway at Saint-Denis, with my Lacoste overcoat, my bumbag, my cap, and I passed unnoticed, he joked. But when I came out from "Invalides hotel", people looked at me as I were an extraterrestrial! »
In two years, he got his professional certificate. He has a real gift for cooking art. His bosses recruited him and provided him with an apartment in the 16th district and a scooter. « I was 20 years old and I was the king of the world! »
And quickly, he was not afraid of slamming doors and of trying his lucks in promising cities. He worked in London then returned to Paris before going to try his luck at El Chiringuito in Ibiza…
In 2011, he took control of AfricasA gourmet restaurant just near the Pantheon. He was 26 years old. He was quickly well known. The restaurant will close a few months later, after a discord between partners.
But this free electron of cooking is developing projects with the same appetite as he cooks … He is getting ready to publish a cookbook in the beginning of 2014. He is realizing small clips on the Rap rhythm and he does not hesitate to launch his line of aprons. He also has his web site: « www.loicdabléconseil.com"!
His dream he knows he is soon going to achieve: open finally his own gourmet restaurant.
A recipe!
Roasted quail with white bissap stuffed in horns of plenty on French fried yam.
Preparation: 15 mn
Cooking: 20 mn
For 2 people
A nice quail of 180 g
50 g of horns of plenty
30 cl of white bissap juice
One Yam
A clove of garlic
Some fresh parsley
Butter
Olive oil
Grape seed oil or peanut oil
Palm oil
Well wash mushrooms (rinse them in the clear water at least 3 times) get them sauté in a frying pan with some very hot olive oil.
As soon as mushrooms completely soaked, add it some butter, a sliced thinly clove of garlic and a little finely chiseled parsley. Put at ambient temperature.
Color the quail on each side in the grape seed oil or in the peanut oil
Stuff the quail with mushrooms and pass in the oven 20 minutes at 180°C. Spray regularly (approximately every 5 minutes) the quail with the white bissap juice. Cut 5cm squares yam and fry them.
Put down delicately the quail on the big fried yam. Make a line of palm oil on the plate with a brush for the decoration.
[youtube]http://www.youtube.com/watch?v=JuGHwI2MfMQ[/youtube] [youtube]http://www.youtube.com/watch?v=_oteG-NVlqU[/youtube]
Articles similaires