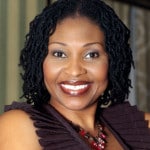 She was born Yvonne Machaka in 1965 and was nicknamed the « Princess of Africa ».
Chaka Chaka has been at the forefront of South African popular music for 20 years.
Chaka Chaka was born in Dobsonville in Soweto. She became the first Black child to appear on South African television. It was in 1981 in « Sugar Shack », a talent show she presented to the South African public.
Chaka Chaka started singing at 19 years old in 1985 when Phil Hollis of Dephon Records discovered her in Johannesburg. She got an immediate success with her first album.
Her best hits are: « I'm Burning Up », « I Cry for Freedom », « Sangoma », »Motherland » and the ever-popular, « Umqombothi« .
Her life was not easy. Her father died when she was 11 years old and her mother, a domestic worker, suffered a lot to bring up her three daughters.
Certified at the University of South Africa in management and administration, she also made studies in culture at Trinity College, London.
Chaka Chaka also has talents in business: she owns a limousine company together with her husband, Dr Mandlalele Mhinga, has her own music label and her own production company. She teaches literacy part-time at the University of South Africa, and she is a goodwill ambassador for the UNICEF and in the partnership to reduce malaria, and pleads in favor of education for the disease, for its prevention and for its treatment.
She was closer to Nelson Mandela and is in a good friendship with Oprah Winfrey.
For her career, she said « The person I like the most is my mother because she has always been there for me. My mother raised three daughters single-handedly on a domestic worker's salary. That took great courage and strength. She is my mentor and hero. When I was born in 1965 in Soweto, it was during apartheid, and those were extremely difficult times. My dad was a great musician who could never realize his dream. He died when I was 11 years old. I inherited my talent from both parents, so music has always been in my blood. When I was little I would strum an empty tin and blow into a broom stick pretending it was a microphone. I sang in church choirs. I loved singing. I am blessed that I achieved my destiny, and been able to accomplish what my father could not. »
Her career and her commitment are connected. She said: « Over the years, I learnt the value of kept promises. As a musician and a businesswoman, I would have lost loyalty and confidence of my fans and my colleagues if I did not keep my promises to sing, to speak and to create new songs. »
She seriously follows the evolution of Africa and the health of the inhabitants of the continent: « There was undoubtedly progress. Few African countries reached the target of 15 %, and 27 others increased the level of their domestic investments in health. The Millennium development goals of the UNO catalyzed the improvements of the development among the various countries. Thanks to the  Global Fund to Fight AIDS, Tuberculosis and Malaria, we have now arrived at a point where we can see the end of these three diseases. Nevertheless, inside this history of the progress, it is unbearable that many communities are left behind. During these last six years, I went across the continent as ambassadress of the UNO and the humanitarian actress, meeting courageous patients, heroic health workers and visionary activists. (…) I am convinced that we could not lose our determination. »
Than ever, she thus remains mobilized: « Africa is always left behind as regards to the objective of improvement of the maternal health and the reduction of the infant mortality. The progress of the objective 6, fight against AIDS, tuberculosis, malaria, and other diseases, also remain uncertain as the Global Fund is trying to free 15 billion dollars to continue its essential work for the next three years. (..) Our own leaders also have to keep their promises on health. Every country has to increase its support for Healthcare sector by exceeding the commitment of the 15 % in setting up innovative mechanisms of financing, in investing in infrastructures and necessary human resources to strengthen health systems, while establishing programs which allow all the Africans, wherever they live, to have access to effective and affordable health services. It is proved that a healthy population is the key for an economic development on the long term. »
Discography:
The Power of Africa: (1996)
I am burning up: (1998)
Princess of Africa: Rhe Best of Yvonne Chaka Chaka (1999)
Yvonne and Friends: (2000)
Princess of Africa, Vol.: 2 (2002)
[youtube]http://www.youtube.com/watch?v=uMk7BGODHYI[/youtube] [youtube]http://www.youtube.com/watch?v=j21qqzXNg1w[/youtube] [youtube]http://www.youtube.com/watch?v=AiDGnZPPme8[/youtube]
Articles similaires