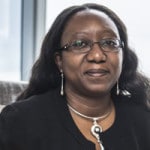 She is Malian and is 44 years old. She is the financier the most influential of the continent.
She has been vice-president Western Union Africa since 2006, the giant of world money transfer! A sacred post!
Aîda was born in Dakar of a Malian father, professor at the University of Abidjan and a mother of Niger, diplomat at the United Nations Economic Commission for Africa. She was lucky enough to grow up in a family that pushed her to her ambition; « My grandmother was an avant-gardist and my mother always amazed her circle of acquaintances by her audacity. As for me, it was obvious that I had to succeed of my studies to open my future prospects. »
Aïda Diarra lived in several countries – Senegal, Ivory Coast – and she followed her high school studies in Ethiopia.
She followed her high educations in France where she got a diploma of finance and economy in American Business School of Paris. But to be certain of success, she left for the United States where she obtained a MBA of management and international business at the University of Hartford in Connecticut.
At the age of 25 years old, she chose entrepreneurship and set up a first business with a partner, a Malian too, Electro Ink Jet, an import-export company of telecoms equipment. With this activity, she stayed very connected to Africa. « We agreed not to agree », she said evoking the end of this adventure with her partner.
In 1999, Aïda Diarra then joined Western Union where she started as deputy marketing manager in charge of flows development in the direction of Africa
She was rather quickly promoted marketing manager for Africa. Aïda Diarra settled down in Casablanca in 2004. To Jeune Afrique magazine, she declared: « My choice surprised many people. Normally, we leave Africa to join the United States, not the opposite! »
She is managing three offices (Casablanca, Lagos and Johannesburg) and generates a turnover for several hundred million euros (in 2013, accumulated income Africa and Middle East reached 640 million euros).
She felt to be assigned a nice mission: « I am persuaded that we played a very important role to allow the poorest to have access to financial services thanks to our 27 000 points of sale. »
Funds transferred in the direction of Africa are estimated at 46, 5 billion euros in 2013. « We have to develop solutions allowing targeting people whom we do not manage to reach today. We have already built partnerships with local banks and electronic purse companies. »
«Perspectives on the continent are phenomenal»
A woman you will hear a lot about again…
Original text by: Nicolas Coutain
[youtube]https://www.youtube.com/watch?v=E279s8KPY74[/youtube]
Articles similaires