Fabrice Éboué is making buzz with his new movie that has for theme Africa.
With "Le Crocodile du Botswanga", he signed a caustic comedy on African autocrats and Françafrique. He rold « Jeune Afrique" magazine the genesis of this movie: « We fell « under the spell » of famous videos of Moussa Dadis Camara which were warhced worldwide. This captain had the faculty to be a big clown at a given time and very dangerous the second a second after. We were clearly inspired by it. Obviously, we needed all the same some backward movement because it is not always funny: the future of a poor country is at stake … And then Dadis, in spite of the extreme aspects of his personality, sincerely led his fights against drug trafficking and corruption and with real convictions. He really liked his country. The problem was that megalomania took possession of him and eventually, he preferred himself to his country. »
« I mixed all that I heard or read on African heads of state. It is a comedy, and it has to be funny, in the end.  »
Still in the same interview he declared why this subject means a lot to him in 2014: « why not making it with what is happening in Mali and in Central African Republic! But beyond, why did I handle this subject, except the fact that I am of Cameroonian origin by my father and that I am interested in the time in which he lived? Because the relations of France with Africa continue on geopolitical plan but also in all big political debates. We think a lot about integration, immigration, repentance or Islam in France but we do not deeply treat the subject whereas everything derived from this past which France has never clarified. The symbolic question of national anthem and soccer that I brought back in the movie is very significant. Why do they blame Black players for not singing national anthem? As long as France will not have made its self-examination, there will difficulty in moving forward together. »
[dailymotion]http://www.dailymotion.com/video/x1bnmyq_le-crocodile-du-botswanga_shortfilms[/dailymotion]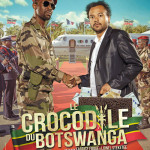 He was born on June 7th, 1977 in Maisons-Alfort and he was raised in Nogent-sur-Marne. His father, who grew up in Cameroon, settled down in France to study medicine. He is a gynecologist-obstetrician today.
Her mother, native of Beuvron-en-Auge, a real Norman of Calvados, is an aggregated history teacher.
Fabrice Éboué always had two passions: cinema and music. He was a member of the rap group Splifton club, produced by Aelpéacha. He is very close to the rapper-producer of French G-Funk Aelpéacha.
It was solo that he emerged in 2000s in presenting at Blancs Manteaux in 2005, at the "Theatre de 10 heures", at Trianon with two shows, "Alleluia"! and "Envers et contre tout »! staged by Kader Aoun.
In 2005, he play the character of a crazy priest in Francis Lalanne's short film beside Jean-Pierre Castaldi and Christian Décamps.
From 2006 till July 2008, he also participated in "T'empêches tout le monde de dormir", a program of Marc-Olivier Fogiel on M6.
Since 2008, he is regular columnist in "On va s'gêner", a program of Laurent Ruquier on Europe 1.
We can see him with several hats
In March, 2009, the humorist was elected « silver Macho man » by the "Chiennes de garde" for the funny sentence: « feminism, it is not only authoritarian women or badly kissed, it is also lesbians! »
He really became famous of cinema in 2010 with his role in Fatal of Michaël Youn.
In October, 2010, he realized his first movie with his former colleague of Jamel Comedy Club, Thomas Ngijol, entitled "Case départ", a comedy on slavery which setting took place in the Antilles. He also acted in it as well as the scriptwriter.
He is currently living with the comedian Amelle Chahbi.
His new movie, allowed him well link up with his African roots, and he intended to invest more if he can. « I wanted to shoot in the country of my father, as Thomas Ngijol who also is Cameroonian. Then, there are logistics, adequate place, decorations, on-the-spot technicians … Briefly, we did not succeed in setting up the movie over there. But in Cuba where there is a cinema of State, cheap, with very successful technicians. Mr. Castro welcomed us with open arms. (…) My Cameroonian roots are more and more important. My father did not take us there when we were children, I discovered the country late, and now I go there more often with a desire to keep the link and to try to see what it is possible to do there. Cameroon does even no more have a movie theater. But it is slow and complicated. »
Filmography
Actor
2006 : Léthé (short film) by Antonin Martin-Hilbert
2009 : Le Chihuahua de Beverly Hills by Raja Gosnell : Delgado (French voice)
2009 : Le fond du trou (short film) by Arnaud Ladagnous
2009 : Inside jamel comedy club (TV series documentary) : lui-même
2011 : Fatal de Michaël Youn : Bruce Keita
2011 : Case départ by Lionel Steketee, Fabrice Eboué and Thomas Ngijol : Régis
2011 : Sans pudeur ni morale by Jean-Pascal Zadi
2013 : Denis by Lionel Bailliu : Vincent
2014 : Le Crocodile du Botswanga by Fabrice Eboué and Lionel Steketee : Didier
2014 : Amour sur place ou à emporter : le film ! by Amelle Chahbi : Bernard
Scriptwriter
2009 : Inside jamel comedy club (TV series documentary, fiction and parody)
2011 : Case départ by Thomas Ngijol, Fabrice Eboué and Lionel Steketee
2011 : United colors by Jean-Luc of Jérôme L'Hotsky, writen together with Jérôme L'Hotsky and Mohamed
2014 : Le Crocodile du Botswanga writen together with Lionel Steketee
Director
2011 : Amour sur place ou à emporter, with Amelle Chahbi and Noom, Théâtre Le Temple
2011 : Comedy Gospel by Claudia Tagbo, Théâtre des Mathurins
2011 : Case départ co-directed with Thomas Ngijol and Lionel Steketee
2014 : Le Crocodile du Botswanga co-directed with Lionel Steketee
Shows
Comdian
2010 : Faites entrer Fabrice Éboué (one-man show), Théâtre Le Temple, Casino of Paris
2013 : Fabrice Éboué, levez- vous (one-man show), Théâtre La Comédie Caumartin
Music
1999 : Rapper on Embauche for la débauche by Club Splifton under the of Mr. Faf
2004 : Interlude on the album J'arrive Jamais by Aelpéacha under the name of Dr Fabrice
2006 : Rapper on the title Fais ce qu'il te plait on the album-compilation Lâche 7 M*rde by Aelpéacha under the name of Dr Fabrice
2007 : Interlude on the album 50/50 by Aelpéacha & J'L'Tismé (of Tout simplement noir)
2008 : Interlude on the album Le Pèlerinage by Aelpéacha under the name of Pasteur Fabrice
2008 : Quotation of the poem Le Mal on the album tribute to Arthur Rimbaud produced by the Composer / player of didgeridoo Raphaël Didjaman on the label Musical Tribal zik Records
2009 : Interlude on the album Le Pèlerinage : Golden Throat Edition by Aelpéacha under the name of Pasteur Fabrice
2009 : Rapper under the name of Dr Fabrice and an interlude under the name of Pasteur Fabrice on the album Studio Delaplage : Chargé by Aelpéacha.
2010 : He parodies Mignon, Mignon, the hit of René la Taupe, in disguising himself in lezard with provocative speeches.
2011 : During the shooting of his movie Case Départ, he participated in La Zagada with  Thomas Ngijol, a song that parodies the summer hits, and the musical style Coupé-décalé (especially the songs by the group Magic System).
[youtube]http://www.youtube.com/watch?v=giBdERVofaU[/youtube] [youtube]http://www.youtube.com/watch?v=lvg8kxgNUkE[/youtube]
Articles similaires