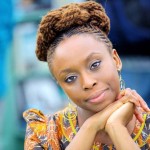 The Nigerian, Chimamanda Ngozi Adichie, is a real ray of sunshine. At the age of 36, she became famous in all Africa and in the United States with her best-seller « Half of a Yellow Sun ». « Americanah », her third novel on the various manners of being Black in the United States was also of an enormous success. « A Lot of people asked you since when had you come from Jamaica because they believed that all the Blacks who had a foreign accent were Jamaicans. Or, if some guessed that you were African, they would tell you that they adore elephants and wanted to go on safari. »
It was published by an editor based at Yaba, a popular and lively district in Lagos: « I am not an Americanah! In reference to these people who were in the United States and who became Americanized ».
Chimamanda Adichie is Igbo, the ethnical group in the center of the Biafran War. She lived in Nsukka in the Southeast, where his father was a teacher at the university. The memory of the war marked all her childhood. « My mother always said that "I had that before the war » and my father ceaselessly talked about his own father, my grandfather, whom I have never known because he died in 1969 in a refugee camp. The war was always there but I did not know the details of what was going on until I started reading about that ».
Chimamanda Ngozi Adichie shares her life between Nigeria, her native country and the United States. She studied during four years in the United States. She studies at Drexel University of Philadelphia in Pennsylvania, then in the Eastern Connecticut State University in order to live closer to her sister who was practicing medicine in Coventry. In 2001, she obtained her university degree with the honorary summa cum laude distinction there. She then read for a Master degree in literary creation at John Hopkins university of Baltimore in 2003. She obtained an M.A. (Master in Arts) of African Studies at Yale University in 2008.
Even if the behavior of Africans or dirt always irritate her so much, she said that « Nigeria remains the only place where she feels at home »
« Half of a Yellow Sun » received the prestigious British Orange Prize in 2007. It is a mixture of Nigeria history and of a very personal story which touched all her family: that of Biafran War which made about one million victims during the secession of this province of the Southeast between 1967 and 1970. It was sold up to 800.000 copies, English version only and it was translated into 35 other languages!
It was adapted to cinema by the Nigerian Biyi Bandele. « I chose not to get myself involved in the movie for my own mental health. It is a book of which I am very proud and which represents a lot, in an emotional point of view (…) Thus, I said myself that attending the cutting of whole pieces on which I worked hard during six years, would be too difficult »
Her books:
Purple Hibiscus, 2003.
Half of a Yellow Sun, 2006.
The Thing Around Your Neck, 2009.
Americanah, 2013.
[youtube]http://www.youtube.com/watch?v=hg3umXU_qWc[/youtube] [youtube]http://www.youtube.com/watch?v=-n8LtRi2i8c[/youtube] [youtube]http://www.youtube.com/watch?v=9Lx1BDdNF4w[/youtube]
Articles similaires