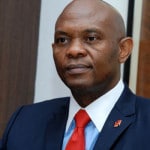 Tony O. Elumelu likes business, and taking risk. He is a banker, an investor and a philanthropist. He considers himself as apostle of « africapitalism ».
He was born on 22nd March 1963 in Jos, Nigeria. He got a master's degree in sciences and in economy at the University of Lagos. He is also a former student of Harvard Business School. He is married and he has five girls. He himself has four brothers and sisters of whom Ndoudi Elumelu, a member of Nigeria federal Chamber of Representatives.
He got known in buying and in transforming Trust Bank standard; he then succeeded a stock-market raid in acquiring United Bank for Africa (UBA). In five years, he made a small Pan-African empire with more than 7 million customers in 19 African countries.
In 2010, Elumelu founded Heirs Holdings that invests in financial services, energy, real-estate and hotel business, the food processing industry and health sectors. He likes counting on projects but also social wealth developing through the continent. Heirs Holdings possesses shares in an energy power plant, a fertilizer factory and a fruit juice production unit. He also carefully keeps an eye on the new digital economy and awards a prize that rewards innovative start-up.
One of his most beautiful achievements was, in 2011, the buying back of Transcorp, the Nigerian conglomerate – formerly ruined and eaten away by scandals, today ultra-well implanted in oil, Oil Prospecting Licence 281, and in hotel business, Transcorp Hilton Abuja. – Recent acquisition of Ughelli power plant for 300 million dollars (224,2 million euros)
In 2010, he launched Tony Elumelu foundation, a philanthropic organization dedicated to promotion of excellence in leadership and enterprising mind, in order to improve competitiveness of private sector through Africa.
He considered himself to be « allergic » to permanent renewal of international help. « We africapitalists rarely make trade. We prefer activities where we can create dynamics: energy, agriculture, refineries. We are not motivated by profit only. »
His strong conviction: « International help granted to the continent does not settle anything. If we use, would it be only half of this money to guarantee loans for small and medium-sized firms, we could finally see a change. We should dare invest in 1 000 companies by accepting that 30 % of them risk to fail, because 70 % can make a success. Banks, as far as they are concerned, will never take such risks. They are not philanthropic organizations. They know that by giving loans to the private sector, they are going to lose money. (…) We must end up with short-term reflection. We should invest on temporal horizons which count in terms of decades, and not of quarters of exercise. We have to stop the practice consisting in extracting wealth without reinvesting for growth. We should build strategically national and manufacturing industries to support our national economies and make grow intra-African business. »
Original text by: Nicolas Coutain
[youtube]https://www.youtube.com/watch?v=ywwxIgJAXYc[/youtube] [youtube]https://www.youtube.com/watch?v=3nYU893BXu0[/youtube] [youtube]https://www.youtube.com/watch?v=fdrE3xWJFcs[/youtube]
Articles similaires