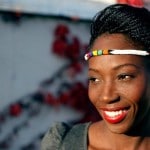 The second edition of Black Fashion Week of Paris was held from 4th to 6th October 2013 in Paris.
It was founded by Adama Ndiaye alias Adama Paris, the name of her fashion brand.
Adama Amanda Ndiaye is a Senegalese even if she was born in Kinshasa in Zaire in 1976 of diplomat parents.
Her career was not easy. « I studied economics in Nantes then, I went to Dauphine faculty in Paris. I always wanted to work in fashion but my parents were not in this perspective. My father told me: « you are Black; you have to work two times more than a White. » I am not of a conservative family but my parents wanted me to have a minimum of school knowledge. I come from a family where everybody must be certified. I have had hard times for years to make things in my small apartment. » Neither promiscuity nor hard times stopped her thirst of success, because she has fashion in her veins.
She started in finance, but as soon as she was able to, she launched herself into fashion. She created the first Black Fashion Week exhibition in Dakar before landing with the same concept in Paris and in Prague! She also has her own brand, Adama Paris. « I have been living in Paris for a long time. It is the city I know better than anywhere else. I like Paris which helped me to be the woman whom I am today. This city gave me many opportunities. I was born in Africa, but I lived in Europe which gave me everything. I was born in Kinshasa where my father served as a diplomat. It was at the age of 5 or 6 that I left for France. I am now 27 years old. Then, the United States and Japan came to me. People of these countries approached me after my fashion show in Paris. But my shop will soon open in Dakar. I want to make of fashion a means of universal interbreeding. »
She recently made declarations on her career and her motivations on the site Soleil: « it is necessary to go beyond our African borders and go to Paris, for example, in order to show our ability. It is also necessary for survival and longevity of our business. To come back to my collection, it is made of much uncluttered line through close-fitting dresses for the sewing, but also of Fulani earrings and « moussor » that shows my attachment to my country, Senegal and to my origins. »
« I also wanted to show that we could be Black and have quality and perfection standards as the rest of the world. There is no reason that we make things less well than others. We are open to others. Why can't western designers do the same thing? »
In this interview, she told difficulties she overcame before succeeding in France and finding funds. « That's why when I was canvassing banks and other sponsors for financing, people did not believe in it at all. Some people or companies set me the condition of changing the name before they could finance us. It is incredible! In France, some have problem with the world Black. It might derive from their past of colonists. »
Adama Ndiaye, convinced of the successes of her three editions of Black Fashion Week in Dakar, Prague and Paris, she is going to continue in proposing other editions to the world. In November, she organized the first edition in Montreal (Canada) and then another one took place in December in Bahia (Brazil).
« I belong to these women who think that it is not the skin color and even less the nationality that has to be an obstacle. I have capacities as anyone. Things are hard for everybody but it is necessary to hang on. »
Her greatest pride: « I remain someone very accessible ».
[youtube]http://www.youtube.com/watch?v=1WfAmL-dIBQ[/youtube] [youtube]http://www.youtube.com/watch?v=p9VT80oCWmQ[/youtube] [youtube]http://www.youtube.com/watch?v=MglQJFux1xk[/youtube]
Articles similaires