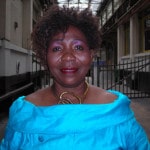 She is known in Europe as well as in Africa. She sings, but she is especially known for her movies.
Born on 29 March 1952 in Congo (Brazzaville), Laurentine Milebo, affectionately called « Mamy Laulo » was revealed to the general public by her movie « Black Micmac 2 » of the film-maker Marco Pauly in 2000. Laurentine Milébo said that in her childhood: « my father – Dad Laurent Kady – swore only by studies, even though some rare times, I had right to play nzango outside. Necessarily, I had no other choices than being a very good student. »
Very smart, her only passion was then music. She left everything and joined the Pioneers. « I was twelve or thirteen years old and a great desire to escape from this family nest aroused in me. My younger sister, Thérèse Mounguélé never stopped telling me: « we do have right to live! Why would we stay at home? « I still remember again myself with her and the Pioneers, singing at the top of our voice and in order to appease our thirst of freedom. »
At the age of 15 years, she felt in love at first sight with an 18-year-old guitarist, Gaston. « People called us Johnny and Sylvie! He talked to me about France as others dream about America. At  that time, we had no television, no pictures other than those of where we lived. In our imagination, France was the paradise on the Earth. (…) My father always told me: « if you stop school I kill you ». In order to live my Love Story, I chose to be pregnant and to suddenly surprise my parents, in front of this lovingly accomplished fact. It was for me to love Gaston or to die. The birth of my first child, while I was only 16 years old, was doubtless the strongest event of my life ». She got 4 others…
Laurentine Milébo has to raise alone her child. Gaston left for France. She discovered a new passion, cinema: « I nevertheless got time to go to cinema, going into ecstasies in front of Indian movies, Italian peplums or Bruce Lee's movies, while continuing with theater and singing. And then, by saving money, I finally flew towards the paradise on the Earth, to join Gaston who left a little earlier. »
1976: Laurentine Milébo settled down in France with her husband and joined the Congolese choir of Paris and also sang in the ballet Lemba.
In 2000, she got noticed in « Black Micmac 2 »: « It was my real beginnings in front of camera and if I was not worried, I found with Marco Pauly what I have never found later. His kindness overflowed from everywhere, he was for my small care, my listening in. I suddenly thought that it was always like that about shootings, that cinema was that; a profoundly warm atmosphere. I found this atmosphere with Daniel Vignes for the movie "Fatou la Malienne" but I admitted that it was something less frequent and while going through shootings that I learnt that being comedian was at least difficult and sometimes a merciless business »
She became the actress idol of the Beninese film-maker Jean Odoutan. But very quicky, several other big directors « interested in her and made her shoot: Daniel Vignes, Pascal Thomas, and Eric Rochant.
In 2007, she co-wrote with the director Edouard Carrion, "La rivale" (Rival) that  recounted the life of a couple, Prudence (Laurentine Milébo) and Maurice (Claude Alexandre Eclar) who, after twelve years of common life, saw their marriage collapsed upon the arrival of a rival, Thérèse (Tatiana Rojo) « it is a movie which enormously means a lot to me. I gave all my know-how both in the texts and in the role which was assigned to me. It would be a pity for this movie not to come out ».
She also wrote One-woman shows, « Mamie Laulo n'en fait qu'à sa tête » (Stubborn Mamie Laulo) and « Récits de femme » (Feminine narratives).
« You can write comedian, but I first of all feel woman, mother of five children, and grandmother of twelve wonderful grandchildren. How many times have I not heard: « stop making your cinema », some people tend to see in me only an actress, it is annoying, I do not spend all my days on a big screen! »
Today, she admits that French cinema doubtless a little forgot her. But she has other projects, in particular artistic, in her native country: « I believe today that French cinema a little forgot me. With my age, I should doubtless get a role of a grandmother, full of wisdom and who would be a spiritual guide to correct the behavior of a careless teenager. A way of advocating values of a given era, that of my generation (…) Yes, I want to transmit to my country Congo the fruit of my experiences and my skills which do not stop at comedy, I am also a scriptwriter and I like the directing ».
To be followed then…
Filmography
2011 :La Rivale (role : Prudence) of Edouard Carion
2006 : Le Grand appartement (role : Mama Oussamba), of Pascal Thomas
2006 : L'Ecole pour tous (role : La Gardienne), of Eric Rochant
2003 : La Prophétie des grenouilles (Voice), of Jacques-Rémy Girerd
2002 : Mama Aloko (role : Mama Aloko), of Jean Odoutan
2001 : Fatou la Malienne telefilm of Daniel VIGNE
2000 : Djib (role : Grandmother Djib), of Jean Odoutan
2000 : Barbecue-Pejo (role : Fati), of Jean Odoutan
1995 : Elisa, of Jean Becker
1992 : L.627, of Bertrand Tavernier
1991: Ma vie est un enfer, of Josiane Balasko
1990 : Ripoux contre Ripoux, of Claude Zidi
1998 : Black Micmac 2 of Marco Pauly
[youtube]http://www.youtube.com/watch?v=XhYaBk-I7i4[/youtube] [youtube]http://www.youtube.com/watch?v=jrUXtKjhp7U[/youtube] [youtube]http://www.youtube.com/watch?v=0qa7-kSQWRY[/youtube]
Articles similaires