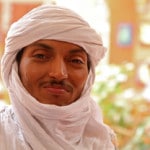 Omara Bombino Moctar, nicknamed the Jimi Hendrix of Niger, was born in Tidene, around Agadez on January 1st, 1980 in a Tuareg camp.
At the age of 10, following the start of the tuareg rebellion, he had to flee from his region with his father and his grandmother. They took refuge in Algeria. In 1997, Bombino could come back into Agadez and begin a professional musician career.
He was discovered thanks to Agamgam in 2004; his first official album was brought out by the French talent searcher Reaktion label. In 2007, he was known thanks to the film director Hisham Mayet who spotted Bombino and his group during a wedding ceremony. An album will follow this event, Group Bombino – Guitars from Agadez, volume 2.
The situation was then always very tense in Niger where we attend a new rebellion of the Tuareg peoples. The government forbad guitar for the Tuareg, for the instrument being then considered as symbol of the resistance. Two musicians from the group of Bombino were executed.
The musician had to exile himself a second time, in January 2010 and this time in Burkina Faso.
The film director Ron Wyman, having heard the audio recordings of his music, tried by all means and met him. And he suggested producing him. Bombino accepted and they brought out together an album in Agadez.
Omara Bombino Moctar, the touarag is a funny character. He likes challenges. He, the man of challenges, by musical passion, found himself in Nashville in the studios of the American star of the indie rock, Dan Auerbach des Blacks Keys. An amazing performance! « I come from the desert of Niger, and I have come till Nashville to record … The word 'nomad' well corresponds to my story. For me, to be a nomad, it is not to live in the desert; it is to like freedom and to be opened. »
« Of course there is a magic. All musicians, not only the Tuaregs, should go to play in the desert at night; it always results in something good. These songs, it was my first recording, and the root of all that I made later. I replayed some of these songs on the records that followed. »
He spoke endlessly about his passion for music and about the adventure: « I left alone, without telling my parents; otherwise they would not have authorized me. The desert can be dangerous; you can travel many days without finding water, it is necessary to be strong. But I had my guitar with me, during this journey it was for me as a friend with whom I spoke. »
Behind his music also lied a very strong cultural message: « even in studio in Tennessee, I always wanted to speak about our culture and to tell the world that we are breeders and not terrorists! We have nothing to do with the jihadists. Singing does not mean we are looking for problems but rather we are trying to solve them! « 
Discographie
– 2009 – Group Bombino – Guitars from Agadez, vol. 2 (Sublime Frequencies)
– 2011 – Agadez
– 2013 – Nomad (Nonesuch Records)
[youtube]http://www.youtube.com/watch?v=fzWBow0OAeA[/youtube] [youtube]http://www.youtube.com/watch?v=nA1g4zBJYio[/youtube] [youtube]http://www.youtube.com/watch?v=A7My5IpEzVM[/youtube]
Articles similaires