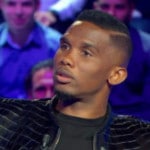 Samuel Eto'o, the Cameroonian star of Chelsea made his show on the pitch by humiliating Arsenal; but also by using very aggressive words. It is not unusual, the older he is, the more free he feels to express what he thinks …
As a result, this weekend, having settled his differences with José Mourinho, his trainer who found him too old and asserted that things are not moving well for the Cameroonian soccer, he attacked Pep Guardiola, his former trainer in Barcelona (2004-2009)
Guest for the programme "Le Club du dimanche" (The Club of Sunday) on beIN Sports, he well let himself go (watch the video).
« I reminded to Guardiola when he arrived that he had never been a big player. I told him: 'the one who will make you win is Eto'o'. I did a lot for the club. Guardiola had the misfortune to make me play twenty minutes against Chivas and I scored 3 goals. Guardiola has never had courage to speak to me face to face. I did not want to speak to Guardiola as long as he did not apologize to me. I spoke to him twice, he explained at length. Pep wanted to give me striker's lessons but he was midfielder. Pep was telling me how to make striker's movements. I replied him: 'but are you becoming crazy?' The real story is that Pep did not well follow things in soccer ».
« As trainer, he did not demonstrate anything. He arrived and he did not even know the story of changing room! (…) I had a discussion with him and a very interesting offer to go and play for six months in Uzbekistan where they proposed me 26 million dollars. In his office, he told me that "it could be good for you, you can go". I answered him: « the one who is going to make you win is Eto'o and one day, you will come to apologize to me. » And I stayed at my place. (…) He never had courage to tell me things face to face. »
« I spoke twice to Pep. The first time, it was because he asked me to go and talk to Yaya Touré who did not want to hear anything about him. Another time, it was because he wanted to give me a striker's advice.
We shall also note this so aggressive declaration on soccer in Cameroon: « People work to fill their pockets. The national team of Cameroon is the best African team. There is a great deal of talents in our team. I wish the best to my country. »
It's a pity what happened during the World Cup 2010 and I hope that four years later, we learnt from our mistakes. It is 17 years since I have been wearing this nice jersey, a jersey full of responsibility … Players did not play and the leaders collusive in this, plotted everything so that some players could not play.
The only thing I wish to my country is the best and that those who have capacities for certain posts, they should be at these posts. We should not appoint people because we have some interests behind and after people will say that it is Africa. If we do not do things in the right way, those who manage the world soccer will continue to treat us with less respect than with others. I do not allow that because with other soccer nations, they do not do what we do in Cameroon. I do not know why Cameroon and quite a lot of other African countries have to undergo this. »
We can wonder all the same if « God » Eto'o is not taking too much risk in exposing himself so…
According to the ranking of ten soccer players of the world having the highest heritages established by the site Goal.com, the current player of Chelsea is listed at the third position with a fortune estimated at 85 million euros.
His biography on Africa Top Sports.com :
he was born on 10th March 1981 in Nkon, Cameroun.
Career path:
He will remain as one of the greatest African strikers of all times. Spotted from the age of 15 years by Real Madrid, he made FC Barcelona experience its greatest moments of glory. He is also the only African to have repeatedly won three times the Champions' League. He two repeatedly times won with Cameroon, the African Cup of Nations.
His career, his clubs:
– He joined Carpentras at the age of 14years old with his brothers David and Étienne. He was repulsed outside France and could not thus join of PSG.
– On returning to Cameroon, he joined the famous soccer school of Kasji Sport Academies in Douala.
– He was then spotted; he played in France in L2 in Havre. He then continued with contracts in Saint-Etienne and in Cannes.
– 1996: he signed a contract with Real Madrid. He was 15 years old during his first season.
– 1997-1998: he was lent by the Real to Legandes. (Spanish Club of 2nd division).
– 1998/1999: he joined Real.
– From January 1999 to June 1999: he was then lent for six months to Espanyol Barcelon.
– In January 2000: Real sold him to RCD Majorca
– 2004: he joined FC Barcelona for 24 million euros
– 2009: he left FC Barcelona for Inter Milan.
– 2011: he was transferred for 27 million Euros to FK Anji Makhachkala. He was paid 20, 5 million euros net a year (more 20 000 € for a goal and 10 000 € for a decisive pass)
– Since August 29th, 2013, he has been playing for Chelsea in English L1.
Cameroonian national team:
– He played in March 1997 his first match on the eve of his 16 years anniversary against Costa Rica.
– 1998: he participated in the World Cup. He was the youngest player of the competition.
– 2000: he won the African Cup of Nations and golden medal at the Olympic Games of Sydney.
– 2002: he won the second African Cup of Nations.
His prize list:
– Real Madrid
1998: Winner of FIFA Intercontinental Cup
2000: Winner of Champions' League
– RCD Majorca
2003: Winner of Cup Of Spain; finalist of Supercup of Spain
– FC Barcelona:
2006 and 2009: winner of Champions' League
2004 and 2007; winner of Copa Cataluña
2005, 2006 and 2009: champion of Spain
2007: Vice-champion of Spain
2009; winner of Cup of Spain
2005 and 2006: winner of Supercup of Spain
– Inter Milan:
2010: Winner of Champions' League
2010: Champion of Italy.
2010 and 2011: winner of Cup of Italy
2010: Winner of Supercup of Italy
FK Anji Makhatchkala
2013: Finalist of Cup of Russia
– Cameroon:
2000: Olympic champion.
2000 and 2002: winner of African Cup of Nations
Personal distinctions
2003, 2004, 2005 and 2010: African player of the year.
2004: Gold star France football.
2004, 2009, 2010, on 2011: African gold lion.
2006: Best striker of African Cup of Nations with 5 goals
His small sentences:
– « Why Anzhi? I am an adventurer! » – Courrier de Russie magazine. November 2012-
– « The problem rather comes from impracticable grounds in winter. There, the game becomes totally different. It is necessary to readjust to a new way of playing  » – Courrier de Russie magazine. November 2012-
– « I was lucky enough to belong to a good group with a big trainer as Guus Hiddink. » – Courrier de Russie magazine. November 2012-
– « I like New York and Moscow reminds me of it because it is always lively. At two o'clock in the morning, there will be always a place where to eat or to have a drink. Moscow also offers this possibility twenty four hours a day. This city changes all the time. The last time I went on holidays, buildings started where I lived. One month and half later, everything was almost ended. As in New York, people never stop. I like this mentality there. – Courrier de Russie magazine. November 2012-
– « People insist on racism in Russia but the phenomenon is global. I would not say either that I have never heard racist insults here: it would not be true. » Courrier de Russie magazine. November 2012-
Articles similaires