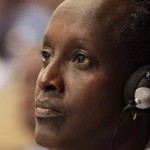 Lydia Nsekera entered history books of African soccer and of world soccer as well.
The Burundian became the first woman in the history elected for four years at the executive committee (world soccer government) by Fifa during a Congress which was held in Mauritius.
The president of Fifa, Joseph Blatter declared: « A woman was co-opted last year for one year at the executive committee and this year, a woman officially joined the executive committee by being elected, with two others co-opted. It took us 109 years to get to this point ».
It is true that her story is rather particular and fascinating.
Lydia was born in Burundi on April 20th, 1967. She is the girl of a former president a local soccer club. She comes from one of the royal families of Burundi. « I have never play soccer, but I always lay inside. In 70s, my father was owner of a small club. Every weekend, players came home for gathering of before match. Then I followed them to the stadium ».
She has been managing Burundian soccer since 2004. She was born with passion for soccer. At the age of 6, she already followed his father to stadium. At the age of 39, she managed an automobile garage where she employed about twenty people before devoting herself to soccer.
Burundians are proud of her. She restored the image of Burundian Federation of Football (BFF), gained the trust of the members and took various initiatives, in particular in favor of feminine soccer. « I especially got the right to minimize problems, to eradicate the endemic corruption in the system, which even destroyed national competitions. There was no more championship. We need to restart everything. (…) Everybody plays soccer in the country. But unfortunately, we do not almost exist; we do not have financial means to do it. We have never participated in the African Cup of Nations; our visibility is almost at zero ».
Lydia has always been courageous. She was early a widow, and she is raising alone her two 11 and 9-year-old boys. Her husband died of cancer in 2003. She became widow with two boys, one of whom Stéphane suffers from a trisomy 21.
« I work in the garage and I help children to do their homeworks. I also have a desk at home. Weekends are reserved for soccer and for the family. My two boys like soccer ». It is better with her…
Lydia Nsekera wanted Burundian women to attend football matches free of charge. As a result, this sport is very appreciated by women for that reason. « Till today, I never sign anything if there is no feminine sector in what they propose me. »
She thinks that: « Feminine soccer has to develop in the same way as male soccer and in all domains: refereeing, training, administration, governance, status of the player and marketing. Simultaneously, it must be protected from drift, as cheating. »
Sepp Blatter said about her again: « Lydia is a woman who managed to put everybody all right ».
[youtube]http://www.youtube.com/watch?v=-NTwz6Kc1ng[/youtube] [youtube]http://www.youtube.com/watch?v=HzDEYfxn2KY[/youtube] [youtube]http://www.youtube.com/watch?v=yyqySP7noEU[/youtube]
Articles similaires