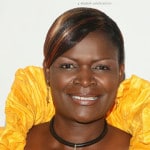 She is beautiful, shining, and she divinely sings well…
Suzanna Owiyo is nicknamed Tracy Chapman of Africa. She is also compared to Nina Simone.
She was born on May 10th, 1975 in Kenya, near Lake Victoria, in a small village of Kasaye near Nyakach (county of Kisumu), in the South of Kisumu.
In her youngest age, she was lulled by music, in particular by her grandfather who was an excellent player of nyatiti.
When she was in high school, she participated in many provincial and national festivals of music.
Her father would like her to become a primary school teacher, but her passion for music was the strongest. She became, in Nairobi, a chorus-singer for the singer Sally Oyugi. Two years later, she joined a group in Nairobi, Bora Bora Sound before taking her chance in solo.
Eric Ounga, a young businessman, a music lover, spotted her and offered her her first acoustic guitar and music courses. She then went back to Nairobi to take the courses of Kenya Academy of Music while continuing to sing dan, while presenting during evenings in a nightclub in Karen (a tourist suburb in the southwest of Nairobi).
In 2001, she presented before 60 000 people on the occasion of the centenary anniversary of Kisumu city. She was entitled to a stand ovation. His career was then launched!
With the Kenyan music producer Tedd Josiah, she recorded the album "Mama Africa" which allowed her to be nominated to the Kora Awards of 2002 in the category of « the most promising feminine artist ».
In June, 2003, she represented her country in Paris during the festival dedicated to Kenya and organized by the "Alliance Française".Then, in the East Africa during the Pan-African Festival of music in Brazzaville where she sang by the besides of Youssou N' Dour, Koffi Olomidé and Rebecca Malope.
In December 2004, while she has just ended her album Yamo Kudho, she was the African feminine artist chosen for the concert of the Nobel Peace Prize where she sang solo and performed the song « Imagine » with some artists such as Cyndi Lauper, Andrea Bocelli, Chris Botti, Patti Labelle and Baba Maal.
In 2005, she became famous worldwide by making tours in France, in the United States, in Zanzibar and in Japan.
In December 2009, she had the honor to be invited in Washington by Barack Obama to celebrate his victory while he became the 44th president of the United States of America and the first Black president of the most powerful country in the world.
In 2010, she brought out her 3rd album, in association with the singer Jua Cali.
set of Records :
Albums
Mama Africa 2002 (Label Arc Music)
Wachna
Ng'oma
Uyie
Sandore Video au concert 46664 de Londres
Suna Ka Ng'eya
Masela
Kisumu 100 Video avec des images de Kisumu
Lek Ne Wuonda
Mama Afrika
Pole Pole
Kisumu 100 (Benga remix)
Minwa Mary (My Mum Mary)
Yamo Kudho 2004 (Label Arc Music)
Janyau
Tich En Tich
Jamer
Ulong'o
Ralep
Hera susore
Malaika
Petit sœur
Nimpendaye
Africa
Maxi CD
Koko ka (Label Arc Music)
Lo Le clip vidéo
Koko ka Le clip vidéo
Lo (remix)
Koko ka (remix)
Simples
Kisumu 100 2001 (Label Audio Vault Studio)
Kisumu 100
Kisumu 100 (Benga remix)
Kisumu 100 (instrumental)
[youtube]http://www.youtube.com/watch?v=zbccuKHYyCg[/youtube] [youtube]http://www.youtube.com/watch?v=nIpvI8D_dco[/youtube]
Articles similaires