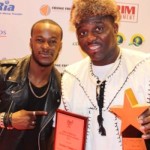 Cameroon is once again honored by one of its sons, the professional disc jockey, Charly Templar.
This social worker in Australia won on 6th September 2014, two trophies at the AAMMA Awards 2014 in Sydney in the categories of « Best Dj » and « Best Mentor« .
The award ceremony took place in Riverside Theatres, Parramatta.
In an interview with our colleagues from Journal du Cameroun, Charly Templar came back on his career path, spoke about his life in Australia and defined the outlines of this competition of which he is a double prize-winner.
Can you introduce yourself to our public? How did you get into Australia?
Hello to you all readers.                                                                                                                I am Charly Templar, Social worker and Professional DJ. I left Cameroon in March 2007 for Thailand where I got a scholarship to prepare a Master's degree. Later, I started working as teacher and DJ in weekends in Bangkok. In January 2011, I decided to find a new challenge by accepting a contract for 6 months in Kuwait as teacher in an international school.
In July 2011, after the end of my contract in Kuwait, I went on DJ tour in Nepal, Taiwan, France, Denmark, Thailand, Cambodia, Laos. In October, 2011, I accepted an employment contract as Youth work mentor in Australia and I decided to realize one of my dreams that was discovery and working in native territory in the North of Australia. This is the way I find myself in Australia.
You just won an international prize. What is really about?
Both trophies won in Afro-Australia Music and Movie Awards (AAMMA Awards 2014) are the one of the Best DJ and the Best Mentor (Social worker). AAMMA celebrates all Africans who live in Oceania and the event takes place every year in September. It was the very first time when Cameroon was represented.
What was the number of participants and how did the competition take place?
In both categories (DJ and MENTOR), candidates were more than 40 and native of Nigeria, Ghana, South Africa, Somalia, Sierra Leone, Benin, Kenya, Ethiopia, Zimbabwe, Zambia …
The ceremony was chaired by Vivica Fox (Hollywood), Pascal Atuma and Ramsey Nouah (Stars of Nollywood); Anne Kansiime (The queen of the African comedy) and numerous political and public personalities. We were 10 in the category of BEST DJ.
Among criteria, they were looking for the DJ the most « booke » with the most international tours, criterion that I easily filled because having excessively travelled.
On the other hand, for the Best Mentor, the competition was harder because the majority of the 30 candidates have been living and working in Australia for more than 10 years. But I was lucky because the work I have been doing in the native region bore its fruit in a short time; enlist the young natives, sometimes alcoholic, drug addicts or disadvantaged in various business sectors. And have the merit to be praised by the former and the new Prime Minister for the work done during their visit in the region.
How did you become DJ and how did you evolve? Is it the only activity you do for your everyday life?
Already in Cameroon, I presented student night shows at the university of Ngaoundere and in nightclubs of the city. Music is certainly in every Cameroonian citizen; musically speaking we have a so rich culture.
January 2010 was a decisive turning point in my life when I presented the private party for Tiesto (a monument and legend of electronic music). On a daily basis, I am a full-time social worker.
As DJ, I have a radio program that can be followed liv) on-line on every Saturday from 4 pm to 6 pm on www.govefm.com.au (what corresponds to 7:30 am in the morning in Cameroon). I also serve as volunteer fireman.
Original text by: Blaise AKAME
Articles similaires