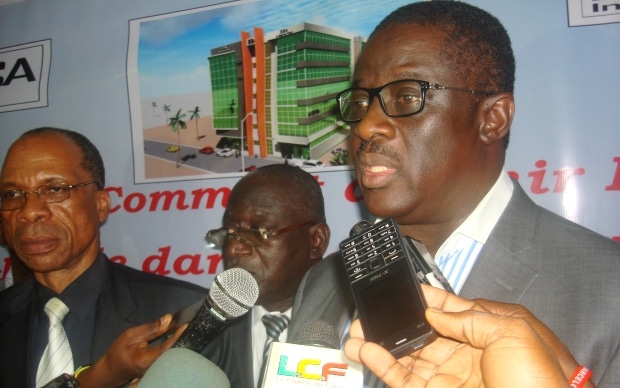 It is henceforth possible to become a chartered accountant of the WAEMU space thanks to the strategic partnership that has just occurred between the Academic of Felix Houphouet-Boigny national polytechnic institute (INPHB) of Yamoussoukro (Ivory Coast) and the Business College (ESA) of Togo.
The partnership agreement was signed last Saturday in Lomé between a delegation of the INPHB led by the Technical adviser for the INPHB managing director, Moro Adama, and the managing staff of ESA.
Through this partnership, WAEMU accountants and students in chartered accountancy can continue their training in DESCOGEF, a program of the WAEMU space registered in the program of the Ivorian institute.
During a round table on « How to become a chartered accountant of the UEMOA space« , presented by the delegation of the institute, the students of ESA were greatly informed on the DESCOGEF and the required conditions in order to benefit from this program.
« During our discussions we set up a training coordinated system with ESA in order to mutualize our educational, research and professional assets serving the Togolese, Ivorian and African Youth« , indicated, Losseyni Bakayoko, academic coordinator of DESCOGEF-WAEMU program.
« The Togolese authorities gave us their blessing with regard to the final goal that is the theoretical, technical and practical training of the WAEMU chartered accountancy between ESA Togo and INPHB of Ivory Coast« , added Dr. Bakayoko who drew up a positive assessment of their 6 day working visit in Togo.
The same tune on behalf of the CEO and founder of ESA, Dr. Charles Birregah, for whom this partnership marks the beginning of a fair collaboration between Togo and Ivory Coast regarding vocational training.
« We are in search of excellence for the training of the young Togolese and Africans for the promising jobs. At ESA, there are no more unemployed people after the studies because of the adequacy training – employment at the Félix Houphouët-Boigny National polytechnic institute that has today an employability rate of more than 80 % at the end of their training« , underlined Dr. Charles Birregah.
And he added: « We want to make our students of ESA and the Togolese youth benefit from this experience and especially allow those who want to do chartered accountancy that was impossible before but possible today with this partnership to prepare the DESCOGEF« .
The quality vocational training at the Business College (ESA) allowed it to be certified ISO- 9001 Version 2008 in May 2013.
And this award is naturally the result of several great partnerships mainly with one of other international training schools of which that with UNIVERSIAPOLIS (International University of Agadir, Morocco) and now with the Academic of the Felix Houphouet-Boigny National polytechnic institute of Yamoussoukro.
Original text by:Roger ADZAFO
Articles similaires